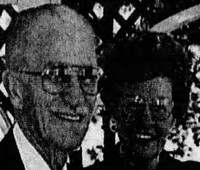 Helen Alta Hazen, daughter of Sibley Orrin (1869-1941) and Sadie Belle (Pennington) (1883-1939) Hazen, was born 6 March 1920 East Lansing, Ingham County, Michigan. She graduated from Okemos High School in 1938. Helen married Harry Lewis Schultz (1915-2001) in East Lansing on 12 October 1940. She married John Russell Vaillancourt 2 August 1947 Lansing, Ingham County. John was a US Army veteran, 1941-1945, of World War II.
In later years John and Helen moved to St. Cloud, Osceola County, Florida and were active in the local St. Cloud Boat Club on Lake Tohopekaliga. They owned a sailboat.
Helen died 28 June 1998 in St. Cloud. She was interred North Eagle Cemetery, Eagle, Clinton County, Michigan. John, born 26 January 1920 Indiana, died unknown.
The Orlando Sentinel (Orlando, Florida) Thursday 2 July 1998
HELEN ALTA VAILLANCOURT, 78, 231 Pennsylvania Ave., St. Cloud, died Sunday, June 28. Mrs. Vaillancourt was a teacher's aide. Born in East Lansing, Mich., she moved to Central Florida in 1968. She was Methodist. She was a member of Daughter of the American Revolution 558285 and Methodist Women. Survivors: husband, John; sons, Paul R. Schultz, Haslett, Mich., Kenneth L. Schultz, Saugatuck, Mich., daughter Judith A. Getts, High Springs; sister, Stella Sikkema; four grandchildren; five great-grandchildren. Fisk Funeral Home & Crematory, St. Cloud.