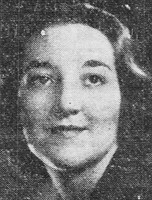 Helen Jeane (or Jean) Howarth, daughter of Clifford R. (1883-1954) and Lula (Granger) (1887-1973) Howarth, was born 19 February 1921 in Mason, Ingham County, Michigan. She graduated from Okemos High School in 1938. Helen married Lee Kitchner Rathbone 28 October 1939 Alaiedon Township, Ingham County. Lee graduated from Okemos High School in 1937.
Lansing State Journal (Lansing, Michigan) Thursday 5 January 1939
Two weddings during the holidays of interest to Okemos people were those of Miss Helen Howarth to Lee Rathbone and Miss Marian Gleason to Stanley Rogers. The former were 1938 graduates of the Okemos school as was also Mr. Rogers. Mrs. Rogers is a member of the senior class of the local high school.
Lansing State Journal (Lansing, Michigan) Friday 6 January 1939
An article in The State Journal under Okemos date line of Thursday stated Miss Helen Howarth and Lee Rathburn (note surname misspelling) were married during the holidays. This is absolutely untrue Mrs. C. R. Howarth states and The State Journal deeply regrets that such an article appeared and that the correspondent was erroneously informed.
Although the State Journal printed several articles on Helen being showered and feted by friends prior to her October 1939 wedding, no article about the actual wedding was written up in the Lansing State Journal.
Lee, born 27 April 1920, died 16 April 1988 Lansing, Ingham County. Helen died 17 March 2010. Lee was interred Leek Cemetery, Okemos. It is assumed Helen was also