Donald Edward Kirvan, son of Roscoe Edward (1899-1970) and Norma L. (Schram) (1901-1992) Kirvan, was born 6 December 1919 Lansing, Ingham County, Michigan. He graduated in 1938 from Okemos High School.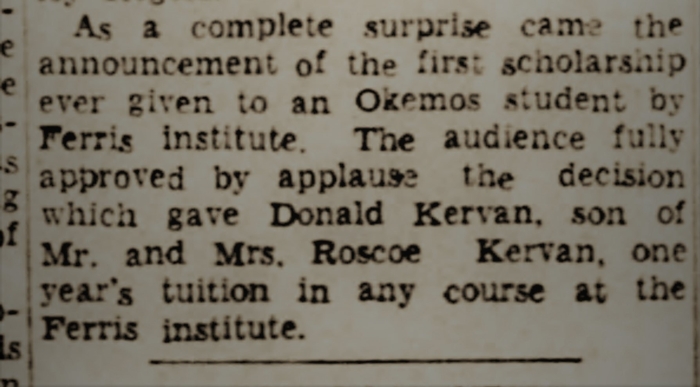 Lansing State Journal (Lansing, Michigan) Monday 6 June 1938
Donald Kirvan was the first Okemos student ever to receive a scholarship to Ferris Institute.
Lansing State Journal (Lansing, Michigan) Saturday 21 August 1943
HELD AS DRUNK DRIVER AFTER CRASH, CHASE
Jess Van Sickel, 41, of 128 South Homer street, was arrested by state police on a charge of drunk driving late Friday night after his car was involved in a collision on M-78 southwest of the city with a machine driven by Donald Kirvan, 24, of Potterville.
Van Sickel, state police said, did not stop after hitting the other machine and Kirvan chased him for several miles. He was finally halted in Lansing and held by local police before being arrested by state troopers investigating the accident.
Donald died 24 April 2000 in Ingham County. Donald was interred, as were his parents, in Deepdale Cemetery, Delta Township, Eaton County, Michigan.
Lansing State Journal (Lansing, Michigan) Tuesday 25 April 2000
KIRVAN, DONALD E.
POTTERVILLE
Former resident of Great Lakes Christian Home, Holt. Age 80, died Monday, April 24, 2000. Donald was born in Lansing the son of Roscoe and Norma (Schram) Kirvan and had been a Potterville resident since 1938 coming from Okemos. He was a 1938 graduate of Okemos High School, attended Ferris Institue, Big Rapids where he was a member of the Band, was a member of the State F.F.A. Band in 1938 that went to the National F.F.A. Convention in Kansas City, MO; was a life member of the Potterville Lodge #367 F. & A.M. and had been employed at Oldsmobile in Lansing from where he retired in 1975 after 30 years of service. Surviving are 1 brother, John E. Kirvan of Paw Paw; nieces and nephews, Denise (Steve) Smith, David (Norma) Kirvan, Carol Kirvan, Cathy (Monty) Cox, Trace (Dawn) Kirvan, Nancy (Mark) Schafer and Eric (Kelly) Kirvan. He was preceded in death by his father in 1970; his mother in 1992, sister-in-law, Julia (Keyes) Kirvan in 1961; brother, Duane Kirvan in 1988, niece Teresa Kirvan in 1993; and sister-in-law Teresa Kirvan in 1993; and sister-in-law Doris (Feyersbend) Kirvan in 1994. Funeral services will be held at 1 p.m. Thursday, April 27, 2000 at the Burkhead-Green Funeral Chapel, Charlotte. Interment in the Deepdale Memorial Park.