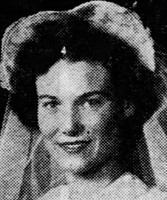 Avis Marjory Williams, daughter of Clyde S. (1889-1978) and Isdell (Ramsey) (1891-1975) Williams, was born 16 July 1920 Copper County, Michigan. She graduated in 1938 from Okemos High School. Avis married Hugh Franklin Kettring 20 May 1950 East Lansing, Ingham County, Michigan. Hugh, born 27 March 1925 South Bend, St. Joseph County, Indiana, was a Naval veteran of World War II. Hugh died 4 November 2009 in Jefferson County, Kentucky. Avid died 11 December 2015 Jefferson County. Hugh and Avis were interred Cave Hill Cemetery, Louisville, Jefferson County.
The Courier-Journal (Louisville, Kentucky News) Thursday, 5 November 2009
KETTRING, HUGH, of Louisville, passed away on Wednesday at Baptist East. He was born on March 27, 1925 in South Bend, IN. Prior to graduation from high school, he enlisted in the Naval Air Corps and served until the end of World War II. He was a graduate of Indiana University and was a sales representative for US Rubber Company in the Naugahyde division for 10 years prior to moving to Louisville in 1961. He founded Derby Fabrics, Inc and on retirement, his son Bryan, took over as president. He served as a commissioner of the City of Blue Ridge Manor for 29 years, past president of the Rotary Club of St. Matthews, past president of the Southern Fabric Distributor Association and a member of Hurstbourne Christian Church. He is survived by his wife, who he married in 1950, the former, Avis Williams; children, Yvonne Moore (Dwain Moore) of Henry County, Alan Kettring of Louisville, Gary Kettring (Leslie) of Sarasota, FL and Bryan Kettring of Louisville; grandchildren, Andrew, Emily and Sean. Funeral service will be 10 a.m. on Saturday at Pearson's, 149 Breckenridge Lane with burial in Cave Hill Cemetery. Visitation will be 4-7 p.m. on Friday. Memorials may go to Hospice or Salvation Army.
THE COURIER-JOURNAL (Louisville, Kentucky News) 12 December 2015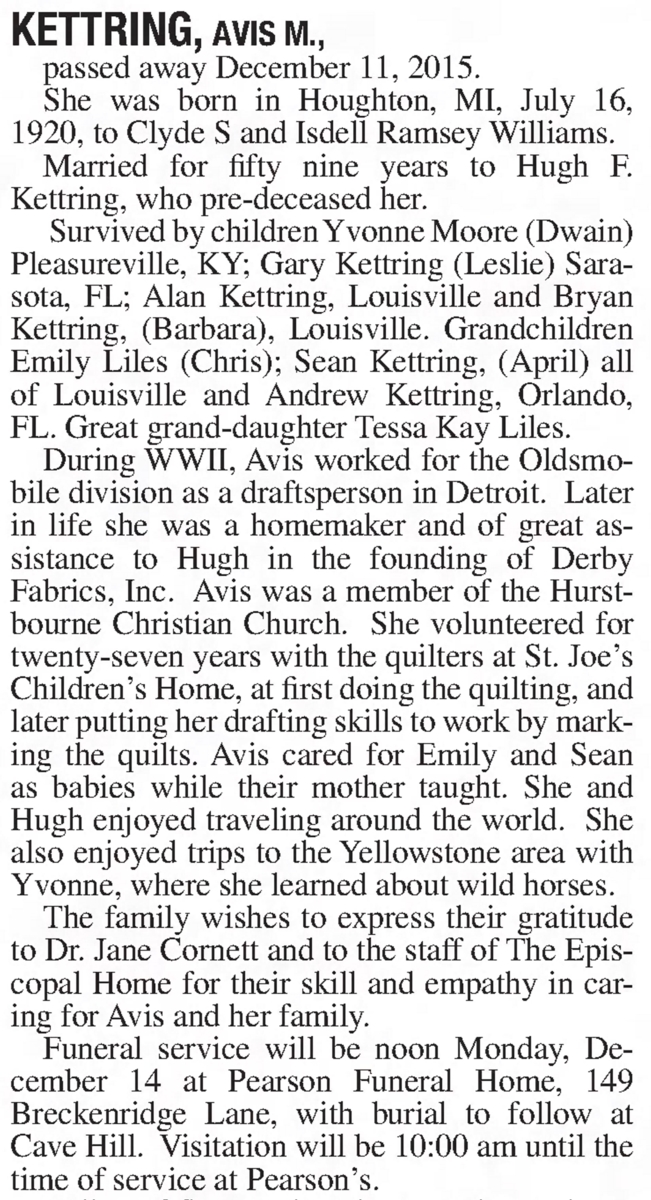 KETTRING, AVIS M., passed away December 11, 2015.

She was born in Houghton, MI, July 16, 1920, to Clyde S and Isdell Ramsey Williams.

Married for fifty nine years to Hugh F. Kettring, who pre-deceased her.

Survived by children Yvonne Moore (Dwain) Pleasureville, KY; Gary Kettring (Leslie) Sarasota, FL; Alan Kettring, Louisville and Bryan Kettring, (Barbara), Louisville. Grandchildren Emily Liles (Chris); Sean Kettring, (April) all of Louisville and Andrew Kettring, Orlando, FL. Great grand-daughter Tessa Kay Liles.

During WWII, Avis worked for the Oldsmobile division as a draftsperson in Detroit. Later in life she was a homemaker and of great assistance to Hugh in the founding of Derby Fabrics, Inc. Avis was a member of the Hurstbourne Christian Church. She volunteered for twenty-seven years with the quilters at St. Joe's Children's Home, at first doing the quilting, and later putting her drafting skills to work by marking the quilts. Avis cared for Emily and Sean as babies while their mother taught. She and Hugh enjoyed traveling around the world. She also enjoyed trips to the Yellowstone area with Yvonne, where she learned about wild horses.

The family wishes to express their gratitude to Dr. Jane Cornett and to the staff of The Episcopal Home for their skill and empathy in caring for Avis and her family.

Funeral service will be noon Monday, December 14 at Pearson Funeral Home, 149 Breckenridge Lane, with burial to follow at Cave Hill.