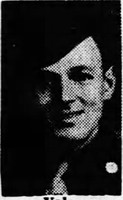 John Valo, son of Michael (1886 Czechoslovakia -1961) and Eva (Kadlecki) (1888 Czechoslovakia - 1966) Valo, was born 27 January 1917 Milwaukee County, Wisconsin. John grew up in the Lansing area and graduated in 1936 from Central High School, Lansing, Ingham County, Michigan. In 1942 he enlisted in the US Army where he served honorably until discharge in 1947.
Lansing State Journal (Lansing, Michigan) Saturday 21 April 1945
Tech. Fifth Grade John Valo, 28, who has been serving with the Ninth army in Germany, suffered a leg wound from machine gun fire, April 4, and is now hospitalized somewhere in England, according to word received by his parents, Mr. and Mrs. Michael Valo, sr., 1515 Turner street, they disclosed Saturday. Corporal Valo graduated from Central high school in 1936 and was employed by an aircraft plant in San Diego, Cal., and by the Reo Motors, Inc., prior to entering the service. He has been overseas for the past two and one-half years, serving in France and Germany.
John was stationed briefly in Ireland in 1943. There he met and fell in love with an Irish lass and their courtship was later featured in a newspaper article.
Lansing State Journal (Lansing, Michigan) Sunday 11 March 1962
Ann Bain, grey-eyed, auburn-tressed colleen met John Valo, Lansing soldier, at a New Year's Eve party in her native Lisburn (Ireland) in 1943. Their romance flowered, then struggled through three lean years while the young serviceman was sent to England, then France, then Germany; was wounded in Germany, hospitalized in England, hospitalized in Chicago and then at Fort Custer, before she came to American, his correspondence-bidden bride-elect in 1946.
WED IN 1946
Ann came to Lansing, the guest of his family, in July of 1946, when he was hospitalized in Fort Custer; stayed with his family until he was discharged from the hospital and they could be married in October.
Twelve years later, John, is now a map maker with the Michigan department of conservation.
Ann's Irish brogue must have been an interesting sound in a Czechoslovakian household!
Lansing State Journal (Lansing, Michigan) Sunday 28 August 1949
WAR BRIDES LIKE AMERICAN LIFE BUT MOVED AT U.S. CUSTOMS
It is to be hoped that her husband's boss will read this story, for Mrs. John Valo, who is a native of Belfast, Ireland, cannot get over "how kind and helpful the bosses are in this country. Working conditions are ever so much better in American." Her husband was in the infantry.
John and Ann were married 19 October 1946, Lansing. John, after military discharge, attended Michigan State College and then transferred to the University of Florida.
Lansing State Journal (Lansing, Michigan) Thursday 14 August 1952
John Valo of 1515 Turner st will receive his master in education degree Saturday at the University of Florida commencement exercises in Gainesville, Fla.
According to listings in Lansing City Directories 1949-1954, John was a student in 1949, employed as a teacher in 1953 and in 1954 was working in the Field Administration Division State Department of Conservation.
John was the shop teacher at Okemos for the 1952-1953 school year. His teaching career was short because he left teaching to work for the State of Michigan, eventually moving into the map making field.
John and Ann never had children. Ann, born 10 March 1910, Ireland, died 28 July 1992, Charlotte County, Florida. John died 1 September 1993, Sarasota County, Florida.