Eleanore Olga Dorn, daughter of Henry (1885-1962) and Martha (Frederick) (1892-1987) Dorn, was born 19 June 1915 Lansing, Ingham County, Michigan. She graduated in 1933 from Okemos High School. Her sister, Margaret Elizabeth "Peggy" Dorn, graduated from Okemos High in 1939.
Eleanore married George Alanson Osborne 15 July 1939 Dekalb County, Indiana. George, born 9 August 1896 Okemos, Ingham County, had previously married Gladys A. Hardy in 1920. The couple had one child, Robert, before divorcing about 1930. George in 1964 retired from Lundberg Screw Company. He and Eleanore were married 46 years. George died 5 May 1986 Lansing.
Eleanore died 23 May 2013. She was interred next to George in Leek Cemetery, Okemos.
Gorsline Runciman Funeral Homes: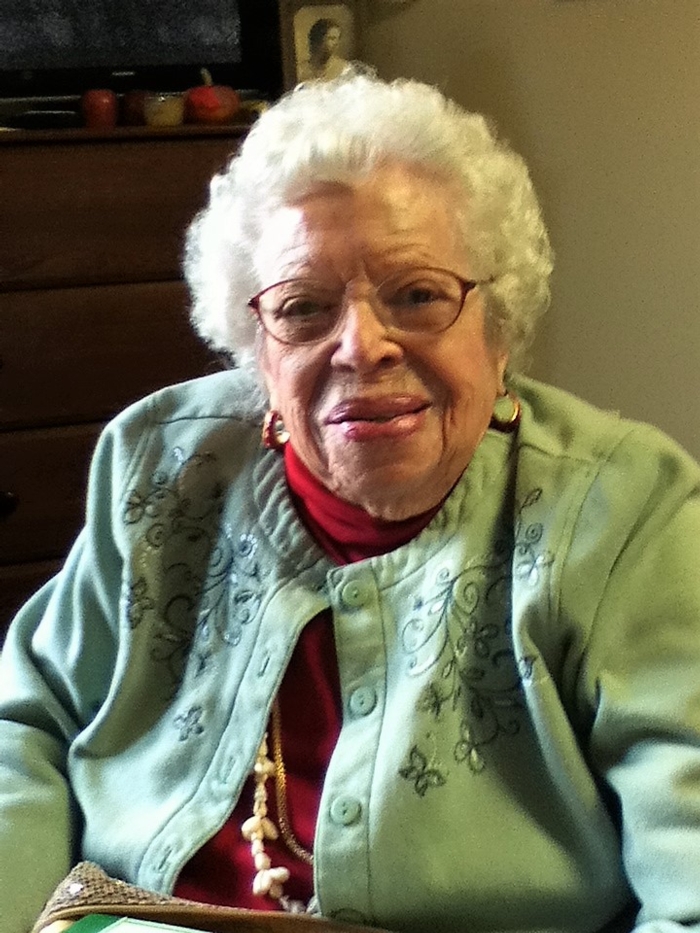 Eleanore (Nunie) passed away suddenly on May 13, 2013 at the age of 97. She was born June 19, 1915 in Lansing, Michigan. Eleanore was a lifelong resident of Okemos, attended Okemos High School, and had many friends. She loved to garden, loved her pets (dogs, cats, turkeys, chickens), and enjoyed nature. She loved her sister's cooking and baking and she loved sweets. In her younger years, she loved to fish, grow flowers and vegetables, play basketball, travel with her nieces & nephew, vacation with her three brothers, her sister, and their families, and have family get-togethers. She worked hard most of her life. Throughout her career, she worked at Greens Apparel, Montgomery Wards, and Meijers Jewelry. She always had a smile on her face, and loved to laugh. She so wanted to live to be 100, and she nearly made it.

Eleanore will be missed so much by her family. She is preceded in death by her parents, Henry and Martha Dorn; brothers, Fred and Art Dorn, and husband, George Osborne. She is survived by her loving sister, Peg (Margaret) Tarpoff (Archie); brother, Bob (Marlene) Dorn, and many nieces and nephews.
Note: George's son, Robert (1924-2010), married Norma Jean Fritz (1925-1980). Norma's family were from the Bath, Michigan area. Norma was only about 2 when the 1927 Bath School Disaster took place. Her sister, Marjorie, age 9 and in the 4th grade, was killed in the horrific explosion. A brother, Richard, later died of the injuries he received that day. Norma's father was also hurt as he tried to help save children and teachers in the aftermath.