David Russel "Dave" McKinley, son of John Oriel (1907-1992) and Mildred Shirley (Roberts) (1907-1997) McKinley, was born 12 February 1931, Michigan. Dave's father was a practicing minister in the Nazarene Church and was a pastor in Indiana for several years before returning to his wife's home in Okemos, Ingham County, Michigan, where Mildred's father was a well-known medical doctor. John later owned McKinley Hardware in downtown Okemos and wife, Mildred, taught Kindergartners at Okemos for 30 years.
Dave was raised in Okemos. He graduated from Okemos High School in 1950.
Lansing State Journal (Lansing, Michigan) Saturday 6 August 1994
OKEMOS BRIDGE TO GET FACELIFT
FEDERAL FUNDS TO HELP RENEW HISTORIC FORM
Meridian Twp. - Carl Burch has been crossing the old camelback bridge overlooking Chief Okemos' fabled campground all his life.
Back when Central School on Okemos Road was the only Okemos school, the future township trustee crossed the gracefully curved span to get to the library in the old township hall on Hamilton Street.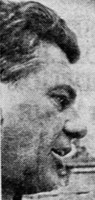 Meridian police (typo: should be "fireman") Lt. David McKinley, another native, admits to running up and down those camelback walls when he was a kid and his grandfather was village doctor and his father ran the hardware store. But that was when Okemos was a quiet two-lane road, he says.
After high school and working for a time in his father's Okemos hardware store, Dave was drafted for service in the US Army. In the 1950's he married Leta Marie Botsford and operated a sand and gravel business. On the side Dave also volunteered with the Meridian Township Fire Department. His volunteering turned into a full time 33 plus year employment.
Lansing State Journal (Lansing, Michigan) Monday 5 January 1970
It isn't necessary to become a township volunteer fireman prior to getting a full-time job on the Meridian Township fire department- but it might help.
Fire Chief Richard H. McKane said he currently has 16 men on the force and nine of them have previously served as volunteer firemen for the township.
The nine are Lt. John Creed, John Eberly, Norman Eberly, Jan Estelle, Douglas Huls, David McKinley, David Sherman, Leon Salters and Murray Wisner.
Dave and Leta raised two children. Leta, born 19 February 1931, died 20 January 2014 at age 82.
Lansing State Journal (Lansing, Michigan) 22 January 2014
Leta Marie McKinley, 82, of Okemos, retired Okemos school bus driver, died Monday. Memorial services 10:30 a.m. Friday at Williamston Free Methodist Church. Arrangements by Gorsline-Runciman Funeral Homes, Williamston Chapel.
Dave died 22 September 2017.
Lansing State Journal (Lansing, Michigan) 8 October 2017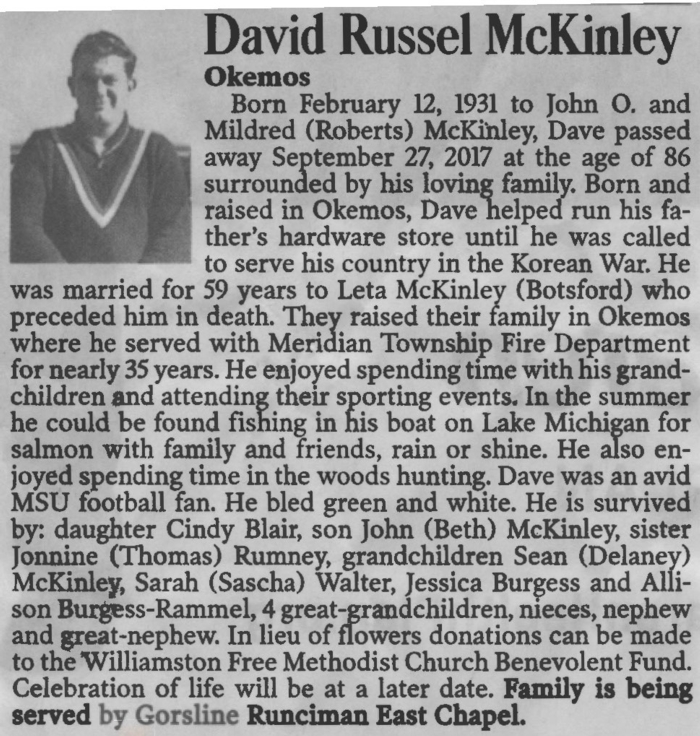 Born February 12, 1931 to John O. and Mildred (Roberts) McKinley, Dave passed away September 27, 2017 at the age of 86 surrounded by his loving family. Born and raised in Okemos, Dave helped run his father's hardware store until he was called to serve his country in the Korean War. He was married for 59 years to Leta McKinley (Botsford) who preceded him in death. They raised their family in Okemos where he served with Meridian Township Fire Department for nearly 35 years. He enjoyed spending time with his grandchildren and attending their sporting events. In the summer he could be found fishing in his boat on Lake Michigan for salmon with family and friends, rain or shine. He also enjoyed spending time in the woods hunting. Dave was an avid MSU football fan. He bled green and white. He is survived by: daughter Cindy Blair, son John (Beth) McKinley, sister Jonnine (Thomas) Rumney, grandchildren Sean (Delaney) McKinley, Sarah (Sascha) Walter, Jessica Burgess and Allison Burgess-Rammel, 4 great-grandchildren, nieces, nephew and great-nephew. In lieu of flowers donations can be made to the Williamston Free Methodist Church Benevolent Fund. Celebration of life will be at a later date. Family is being served by Gorsline-Runciman East Chapel.