Russell Glenn, son of Stanley W. (1911-1990) and Mary Elizabeth (Brainerd) (1911-2004) Glenn, was born in 1946. He was an Okemos Elementary School pupil and part of the future OHS Class of 1965. Russell was a Boy Scout and also played piano. His family lived on Ottawa Drive, Okemos.
Russell was killed in a US-16 car crash 12 August 1958. According to his Lansing State Journal obituary, Russell was interred Mt. Hope Cemetery, Lansing, Ingham County. Russell's parents were interred Lone Oak Cemetery, Leesburg, Lake County, Florida. Engraved on their large headstone is Russell's name, birth and death year.
Lansing State Journal (Lansing, Michigan) 13 August 1958
BOY KILLED IN CRASH ON US-16
Russell Glenn, 11, 4585 Ottawa dr., Okemos, was killed and his father, Stanley, 47, was injured Tuesday when their car was struck by a double-trailer truck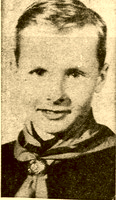 on highway US-16 about five miles east of Lansing.
Stanley Glenn was westbound and was turning left onto Okemos road when his 1956 Chevrolet was hit broadside by the eastbound truck. Elmo M. Charlton, 48, of Wayne, driving the truck for Brada Cartage, Detroit, was uninjured.