Joseph Keith "Keith" Bartow, son of Clarence Nolan Sr. (1891-1964) and Annabelle (Rounsifer) (1894-1981) Bartow, was born 17 October 1920, Mason, Ingham County, Michigan. Keith attended Okemos High School with the Class of 1940.
Keith loved music, playing exceptionally well on both the saxophone and clarinet. His father was a violinist with the Lansing Symphony Orchestra. While in school Keith entered numerous local amateur talent contests and played in local bands. In high school he was on the music committee for the Junior-Senior Banquet.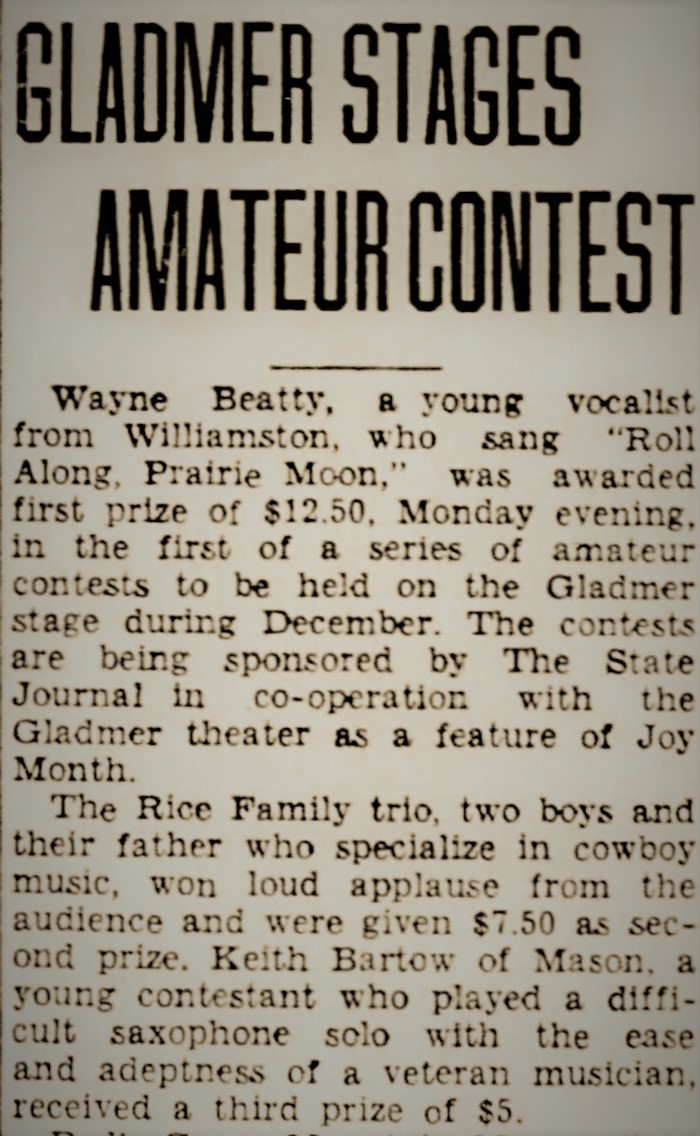 After leaving school Keith entered the world of Big Bands and toured across the U.S. playing either sax or clarinet. On 1 October 1942, Kentucky, he married Mildred Addarene Lyons. The couple would have 4 children but also a tumultuous marriage. They divorced in 1949, remarried and in 1974 divorced again. As the Big Band era faded Keith settled in the Lansing area. He opened a business that sold and repaired musical instruments and also gave music lessons.
Keith died 27 January 1987, Ingham County. He was interred Summit Cemetery, Williamston, Ingham County with other family members.
Keith's former wife, Mildred, born 27 April 1922, married William James Lindley in 1975. Mildred A. Lindley died 7 February 2009, Ingham County.
Lansing State Journal (Lansing, Michigan) Wednesday 28 January 1987
LOCAL BIG-BAND MUSICIAN, STORE OWNER BARTOW DIES
Former big-band musician Keith J. Bartow, 66, of Okemos, died Tuesday.
Bartow, owner of Keith Bartow Music at 2086 Hamilton St., Okemos, relinquished childhood dreams of becoming a member of a radio studio band in New York or Los Angeles to play band music in nightclubs and ballrooms.
He criss-crossed the country in the late 1930's as a sideman playing saxophone and clarinet in what he described as "every flea bag, any little hole in the wall."
During World War II, he worked at Lansing's Reo Motor Car Co.
He left the road in 1948, when the big-band era began to fade, and later started Keith Bartow and His Orchestra, a local band. That band broke up in 1963.
Bartow shared a love of music with his older brother, C. Nolan Bartow, a Lansing violin-maker who died in 1984.
"The saying goes 'If you can't play, teach, and if you can't teach, be a conductor,'" Keith Bartow once told a reporter. Keith Bartow, chose teaching and selling.
While his local band toured, Bartow, who opened up an instrument shop that sold wood and string instruments in 1953, continued to teach music. He also repaired instruments.
He opened up his first retail shop in Lansing, then moved to Okemos in 1976.
Funeral arrangements are being made by Gorsline-Runciman East Chapel.
Lansing State Journal (Lansing, Michigan) Thursday 29 January 1987
J. KEITH BARTOW
OKEMOS
Age 66, died January 27, 1987. Born October 17, 1920 in Mason, Mr. Bartow was the owner of Keith Bartow Music Store for over 30 years. He was a member of the Musician's Union and a former "Big Band" leader. Surviving are 1 daughter, Merry Ann of Alma; 3 sons, Jon, todd and Mark, all of Okemos; 3 grandchildren, Keri, Laura and Elizabeth; 3 sisters, Patty, Geraldine and Joan. Funeral services will be held Friday, 10:00 a.m. at the Gorsline-Runciman East Chapel, East Lansing, with the Rev. John E. Cermak, Pastor of Okemos Community Church, officiating.