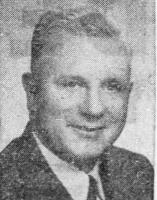 Luke Harry Kelly, son of Edward John (1861-1945) and Amelia (Gillhespy) (1868-1953) Kelly, was born 16 September 1901, Ottawa County, Michigan. Luke became superintendent of Okemos Consolidated Schools from 1933-1938. He married Ruth Ingrid Peterson 25 June 1926, East Lansing, Michigan. Their marriage license listed their occupations as "school teacher."
After attaining a BS degree in agricultural education in 1925 at Michigan State College, Luke was employed, by 1927, as superintendent of Haslett Rural Agricultural School, Haslett, Ingham County, Michigan. He was then in 1933 hired by Okemos Consolidated Schools to assume the same position. Ruth taught in both Haslett and later in the Okemos School system. She was a mathematics teacher. Ruth later became a professor at Lansing Community College, Lansing.
Lansing State Journal (Lansing, Michigan) Thursday 7 September 1933
HASLETT SCHOOL HEAD TAKES POST IN OKEMOS
Haslett, Sept. 7 - The Haslett P. T. A. under the leadership of this year's president, Mrs. Lillian Howes, is sponsoring a farewell party for the recent superintendent of schools. Luke H. Kelly and wife, who leave soon to make their home in Okemos where Mr. Kelly will be superintendent of the Okemos consolidated school. the party will be held in the church parlors Friday evening. Mr. and Mrs. Kelly have been here five years.
Lansing State Journal (Lansing, Michigan) Thursday 22 June 1939
Raymond Clark, who has been a successful director in agriculture education and supervisor of agricultural teaching in the Okemos school this last year has accepted a position as assistant supervisor of vocational agriculture in Michigan department of public education. This is the second Okemos teacher to take such a position as a year ago Luke Kelly joined the state department from Okemos.
Luke became agricultural consultant of vocational agricultural education in the state department of public instruction. During his tenure with the state, Luke was appointed to work as an agricultural advisor on the Point Four program in India. He, wife and 2 of his three daughters, lived in Delhi, India for a year.
Luke suddenly succumbed to a heart attack at age 54, 11 July 1956, Okemos.
Lansing State Journal (Lansing, Michigan) Wednesday 11 July 1956
EDUCATOR DIES AT 54
Luke H. Kelly, 54, agricultural consultant in the division of vocational agricultural education, state department of public instruction, died unexpectedly of a heart attack Wednesday morning at his home, 4444 S. Hagadorn rd.
Mr. Kelly had worked at his office, 700 Bauch building, Tuesday, and had appeared to be in good health, according to Dr. C. L. Taylor, superintendent of the department of public instruction.
A native of Conklin, Mr. Kelly had been a resident of Okemos for the past 23 years, and had been serving in his present capacity with the public instruction department for the past 18 1/2 years.
FFA AIDE
He was executive-secretary-treasurer of the Michigan Association of Future Farmers of America until his assignment to India by the U.S. foreign operations administration April 1, 1952. He returned to his position with the department of public instruction July 1, 1953.
Mr. Kelly had direct association with 234 agricultural departments in his work from the state office. Prior to assuming his position with the public instruction department he was a superintendent and teacher trainer at Okemos for four years. He served in the same capacity at Haslett for five years.
Earlier positions included that of principal of a 10-grade school in Lupton and the superintendency of a school at Benzonia for nearly two years.
M.S.U. GRADUATE
Mr. Kelly received his B.S. degree in agricultural education at M.S.U. in 1925, and his master's in 1928. He did summer graduate work at the University of Michigan from 1931-42 toward his doctor's degree. Undergraduate work was done at Ferris institute and western Michigan college.
Mr. Kelly was an active member of the Michigan Education association, Michigan Agricultural Teachers' association, American Vocational association, and National Agricultural teachers' association. He also was a member of the Okemos Community church and East Lansing Lodge No. 480, F. and A. M.
Besides the widow Ruth, Mr. Kelly is survived by three daughters, Mrs. Patricia Moore of Ionia; Mrs. Roberta First of Sault Ste. Marie, and Miss Rhoda Kelly, living at home, a student at M.S.U.; three sisters, Miss Kate Kelly and Mrs. Homer Beuschel of Sparta; Mrs. Roland Arnold of Fruitport and Edward Kelly of Conklin, and two grandchildren.
Funeral services will be held at 3 p.m. Friday at the Gorsline-Runciman funeral home, with Rev. David Evans, pastor of the Okemos Community church, officiating. Burial will be in Glendale cemetery at Okemos.
After Luke's untimely demise, a scholarship was set in place to encourage young people in agricultural careers.
Lansing State Journal (Lansing, Michigan) Tuesday 25 March 1958
AG CAREERS ARE URGED
2,000 RURAL YOUTHS HEAR TOP SPEAKERS AT FFA MEETING
The award, given for the second year, honors the late Mr. Kelly of Okemos and long-time agricultural education specialist in the department of public instruction. He served as executive secretary-treasurer of the Michigan FFA association and many of the present-day activities are the result of his efforts and inspiration, officials said.
Luke and Ruth lived in Okemos area for years. All three of their daughters, Patricia, Roberta and Rhonda, graduated from Okemos High School.
Ruth, born 9 August 1902 Osceola County, Michigan, died 2 March 1988, Houghton County, Michigan. Luke and Ruth were interred Glendale Cemetery, Okemos.