Henrietta Leone Hartsuiker, daughter of Arie (1893-1971) and Marie (Dubreuil or Dubrouil) (1895-1975) Hartsuiker, was born 5 November 1928, Michigan. She graduated with honors in 1947 from Columa High School, Berrien County, Michigan and furthered her education at Michigan State College. While at Michigan State she played clarinet in the college band.
Henrietta married Robert George Puder 20 April 1952, Coloma. Robert had been drafted into the Army and left soon after the wedding for military service. After honorable military discharge Robert resumed his education at Michigan State and Henrietta taught music for one year, 1954-1955, at Okemos High School.
The News-Palladium (Benton Harbor, Michigan) Saturday 10 May 1952
HENRIETTA HARTSUIKER WEDS ROBERT G. PUDER OF NEW YORK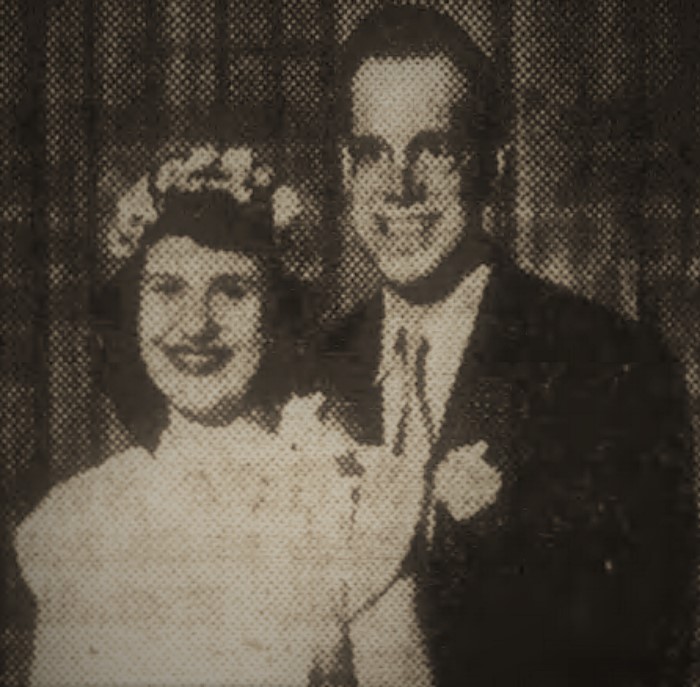 Coloma, May - Announcement was made today of the marriage of Miss Henrietta L. Hartsauiker, daughter of Mr. and Mrs. Arie Hartsuiker, 395 Church street, Coloma, to Robert G. Puder, on April 26.
The bride wore pink lace and nylon net over matching taffeta, a pink hat, and a white orchid corsage for the ceremony, performed at high noon at the Coloma Congregational church by the Rev. Ralph Everroad.
Her attendants, Mrs. Jeyre Keene, and Mavie Kathryn Eberhart (junior bridesmaid) were costumed respectively in navy blue lace with pink carnation corsage, and orchid organdy with white rose corsage.
Robert M. Puder was best man and Jeyre Keen and Richard Gordon ushered.
The bride's father have her in marriage.
The bridegroom is the son of Mr. and Mrs. George Puder of Dunkirk, N. Y.
Miss Marjory Furman played the wedding marches.
Pink carnations decorated the church and bud vases of these flowers, tied with white satin bows, designated each pew.
A wedding breakfast was served to 15 after the ceremony at Will-O-Paw, Paw Paw Lake where pink and white snapdragons were decorations.
Mr. and Mrs. Puder will make their home at 15 East street, Fremont, Mich.
The bide is a graduate of Coloma high school and Michigan State college. Her husband is a graduate of the Dunkirk, N. Y., high school and the Rochester Institute of Technology, and has been attending Michigan State college, East Lansing.
Mr. Puder has been called into the service and leaves May 27.
The young couple lived in Michigan and New Jersey, eventually settling in Tennessee where they raised their daughter and only child. Robert was supervisor at the DuPont Plant, New Johnsonville, Tennessee.
Henrietta continued her love of music. She played in a community band.
The Jackson Sun (Jackson, Tennessee) Monday 25 April 1994
COMMUNITY BAND MAKES A COMEBACK
Under scintillating Sunday skies, an ensemble of students, senior citizens and those in between convened to celebrate the sounds of yesteryear.
Those sounds were of the community band, a slice of Americana that had almost gone the way of nickel soda pops, drive-in movie theaters and town team baseball.
That was until Sunday when the first-annual Jackson State Community Band concert was held. About 150 people listened from their folding chairs and picnic blankets some soaking in the Sunday sunshine, others seeking shade below Magnolia trees.
But, the 68 musicians playing enjoyed the event as much as the audience.
......For 65-year-old Henrietta Puder, she was searching for some place to play after the Waverly community band folded about four years ago.
"I didn't play a lot after I got out of college and there were not a lot of places to play after that,: said Puder who played her clarinet at Michigan State and then on her own in Camden. "I was tickled to death they started this."
Henrietta died 20 November 2014, Georgia. Robert, born 22 October 1928, died 24 April 2017, Georgia. They were interred Chickamauga Cemetery, Chattanooga, Hamilton County, Tennessee.
Unknown source:
Henrietta Leone Hartsuiker Puder, age 86 of Chickamauga, GA passed away on Sunday, November 30, 2014.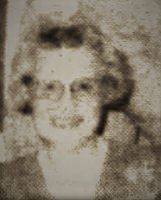 She was a native of Camden, TN and has lived in the Chickamauga Area for the past 6 yrs. Henrietta previously attended the United Methodist Church in Camden, TN and was a member of Elizabeth Lee United Methodist Church. She was a member of the Women's Club, Central TN Dressage Association, Magic Valley Saddle Club, The Eastern Star, Jackson Area Community Band and the Mid South Symphonic Band in Rossville.

Henrietta was preceded in death by her parents, Arie and Marie Hartsuiker and sisters, Lucille Keen & Mary Jane Harte.
She is survived by her loving husband, of 62 yrs., Robert G. Puder; daughter, Holly (Doug) Lee of Chickamauga; grandchildren, Katelyn Lee, Madelyn Lee and Arilyn Lee; and several nieces and nephews.

A Memorial service will be held at 1:00 pm on Wednesday, November 3, 2014 at Elizabeth Lee United Methodist Church. The family will have a visitation at the church on Tuesday from 4:00 pm to 6:00 pm.
Unknown source:
Robert George Puder, 88, passed peacefully at home on Monday, April 24, 2017. He is preceded by his parents George and Emma Foster Puder of Dunkirk, New York and his wife, Henrietta Hartsulker Puder. He is survived by daughter and son-in-law, Holly and Douglas Lee, and granddaughters, Katelyn, Madelyn, and Arilyn Lee of Chickamauga, Georgia.
After growing up in Dunkirk, New York where his father owned the local bakery, he attended Michigan State University, where he met his wife. He was called to serve during the Korean War, where he was sent to do hospital and laboratory work, spending much of his time in San Antonio, Texas and Walter Reed Army Medical Center, working on the development of important vaccines, actually experiencing Venezuelan Equine Encephalitis. After serving his time in the Army, he returned to Michigan State, where he completed his degree in chemistry and then studied at R.I.T.
He went to work for the DuPont Company after college, spending some time in New Jersey, then transferred to the newly built New Johnsonville, Tennessee plant and settled in Camden, Tennessee. He was the Control Lab Supervisor there for many years and was known as "Sweet Ole Bob" – or often just the initials. His wife and he moved to Chickamauga in 2005 to be closer to family.
He was active in the community in and around Camden, Tennessee for many years being a member of the Freemasons for 50 years, the Elks Club, the Benton County Saddle Club (Where he grilled thousands of hamburgers), among other groups as well as Elizabeth Lee United Methodist Church, Chickamauga, Georgia. He had a passion for hunting, fishing and conservation-being very active with Ducks Unlimited and with a group that distributed wood duck boxes on Kentucky Late and enjoyed feeding the wild birds in this yard. He will be missed by many.