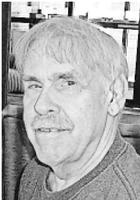 George Russell "Russell" Aaron II, son of George Russell (1909-2002) and Emily Clara (Bowen) (1907-2000), was born 12 January 1944, Michigan. He graduated in 1962 from Okemos High School and furthered his education by attending Michigan State University and Lansing Community College.
In 1975 Russell married Carolyn Marie Brimmer. Unfortunately the marriage did not last but the two remained friends. Carolyn Marie (Brimmer) Martin, who remarried, was born 29 March 1945, Michigan and died 18 January 2005, Michigan.
Russell was a United Stated Postal Service employee for many years. He succumbed to a massive stroke 13 August 2017, Lansing, Ingham County and was interred Evergreen Cemetery, Lansing.
Lansing State Journal (Lansing, Michigan) 17 August 2017
George R. Aaron, II
Okemos

George Russell Aaron, II, 73, of 1627 Minoka Trail, Okemos, MI died Aug. 13, 2017 at Sparrow Hospital in Lansing, MI following a massive stroke at his home.

Mr. Aaron was born Jan. 12, 1944, the son of the late George R. and Emily C. Bowen Aaron. A 1962 graduate of Okemos High School, he attended Michigan State University and Lansing Community College. He was retired from the U. S. Postal Service.

A lifelong resident of Okemos, he enjoyed playing cards and going to the family cottage.

Mr. Aaron is survived by: brother Thomas E. (Diane) Aaron of SaddleBrooke, AZ; two nieces, Kristine Y. Aaron-Jacobi of San Diego, CA and Holly L. Aaron of Kensington, CA; and nephew Erik T. Aaron of Mission Viejo, CA. He was pre-deceased by former wife, Carolyn.

Interment will be in the family plot at Evergreen Cemetery. A Celebration of Life will be in SaddleBrooke at a later date.