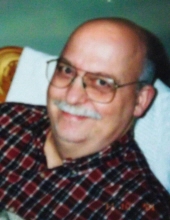 David Terry Federau class of 1963
On Sunday, September 27, 2020, David Federau, loving husband, father, and brother died at the age of 75.

David was born in Owosso, MI on February 1, 1945. At about 6 months of age he was adopted by Vic and Crystal Federau and thus became the 4th of their five children, one daughter and four sons altogether. He graduated from Okemos High School and attended LCC. On February 5, 1972 he married Jackie and together they raised a son, Zack and a daughter, Annie.

David was preceeded in death by his son, Zack, granddaughter Taylor Ann, and sister, Jean, brother Dick, and his parents Vic and Crystal. He is survived by Jackie, his wife of 48 years and his daughter, Annie Crockett (Kevin), daughter in law Jamie Federau, brothers Douglas Federau(Beverly), Ric Federau (Nancy), 6 grandchildren, and many nieces and nephews.

When he was a youngster, instead of taking the bus, he would walk from Okemos to the other side of Lansing for piano lessons so he could use his bus fare to buy a comic book and a snack. Then he would walk all the way back. He loved taking things like lawn mowers apart to see if he could figure out how they worked.

In High School he weighed only about 120 pounds but that didn't stop him from joining the wrestling and football teams. He would often reminisce over his days on the wresting mat or on the grid iron – getting trucked by someone over twice his size and leaving him, in his own words, "looking out the earhole of my helmet." He would repeat that story with a chuckle and a big grin on his face. He would not allow himself to be intimidated. He just played the game.

After graduating from high school and taking a few college courses, his working career included working with his Dad in the family business Federau & Son— installing and repairing commercial laundry and dry cleaning equipment, factory work, life insurance sales, truck driver, owner operator of Gleason's Radiator Shop, computer and printer repair and computer network administrator. He was a hard worker and always gave his best.

David was an avid learner, voracious reader and enjoyed the quiet solace of sitting beside his fire pit during the cool fall months with coffee in hand. He took pleasure in making something out of whatever materials that could be found lying about. He had a keen mind for anything mechanical and developed an intense interest in computer technology during the latter part of his life.

David enjoyed helping others and was known to drop everything to help someone. Most of all, he was known for his quick wit and and an ever ready sense of humor - either you got it or you were left scratching your head for a minute or two. He and Jackie enjoyed early morning coffee and long conversations—with much laughter and head scratching.

When something you said peaked David's interest or amused him in some way, he would often place his hand over his chin and pause for a moment. A grin would inevitably take shape on his lips followed by a chuckle and then, like clockwork, his first word uttered was a slightly drawn out "R E A L L Y."

A highlight in his life was studying the Bible and becoming one of Jehovah's Witnesses. For many years, David struggled with poor health but he found satisfaction in doing what he could do, spending time with his wife and family and in sharing bible truths with others.

As we personally reflect on the brevity of life, something David told his wife comes to mind – He said "I'll make the living and you make it worth living." Dave was right. Happiness does not result from the amount of money earned or the possessions we accumulate – true happiness comes from from serving Jehovah, living by his standards, loving the people around us and selflessly using our life to care for the needs of others.

David eagerly anticipated the fulfillment of the resurrection hope promised in God's Word the Bible. He often spoke about his desire to be reunited with his parents and his son – to see the look of surprise in their eyes after they came to realize what just happened. Although David has fallen asleep in death, we are confident that he remains in God's memory and that he too will be resurrected to life on a beautiful paradise earth – free from the ravages of disease, old age, death, war, crime, violence and everything else causing pain and suffering.

Until that time, we fondly remember the many good and kind things David did on behalf of others. We eagerly anticipate the day when he is brought back to us with restored health, vigor, coffee in hand, that chuckle and yes, his sense of humor.

There will be an online memorial service on Monday, November 2, 2020 at 7 pm. If you would like to attend, please contact a member of the family.
Al Hopkins kindly informed the Alumni Association of Dave's passing.
Obit from Murray-Peters Funeral Home. Grand Ledge MI
https://www.petersandmurrayfuneralhome.com/obituaries/obituary-listings?obId=18731598#/obituaryInfo