Irene Katherine Renz, daughter of William John (1887-1961) and Pearl Francella (Merrill) (1890-1962) Renz, was born 23 May 1920, Michigan. She graduated in 1937 from Okemos High School and went on to graduate, with a Home Economic Degree, from Michigan State College in 1941. Irene furthered her education with a full certification from John Hopkins University School for Dietitians in 1942. She was employed by the Commonwealth of Virginia, traveling the state during the years of World War II, teaching woman to cook using their war rations. She then became a dietitian in the Portsmouth Naval Shipyard Hospital in Portsmouth, Massachusetts where she met Robert E. Ritch who became her husband on 2 March 1946 in Washington, D.C.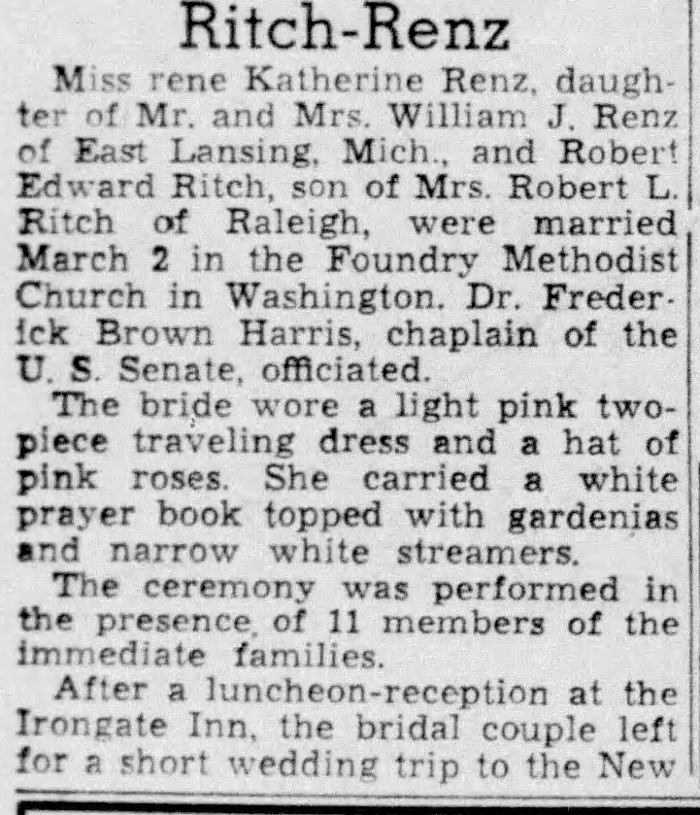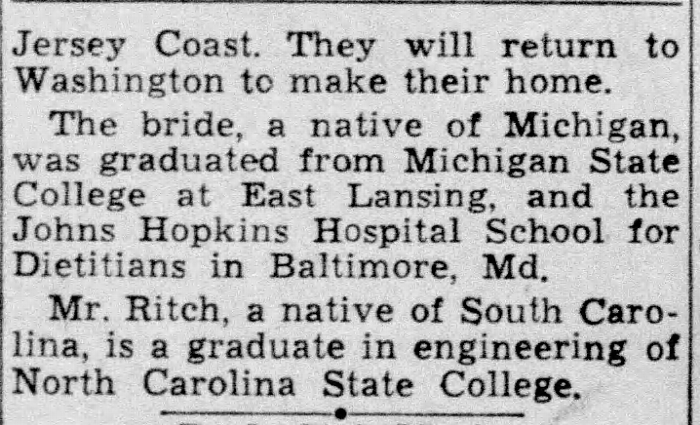 Richard, born 26 June 1917, South Carolina, was a graduate of North Carolina State College with a degree in electrical engineering. He and Irene had one child, Pamela, and lived in the Maryland area for many years. In 1982 the couple retired and moved to Green Valley, Pima, Arizona. Robert died 23 February 1998. Irene moved to La Posada, Pima County and married widower Richard Hannon Flower. Richard was 83 and Irene 80 years young when they tied the knot in 2001.
Irene was a knowledgeable bird watcher and member of the North American Blue Bird Society and the Audubon Society. She was also a marvelous cook, and creative with needle work.
Irene died 2 February 2011, Pima County. She was inured La Posada Columbarium, Green Valley, Pima County. Richard, born 23 January 1918, followed her in death, 5 November 2011, Pima County. Richard was placed beside his 1st wife of many years, Maylyne, Green Valley Cemetery, Sahuarita, Pima County.