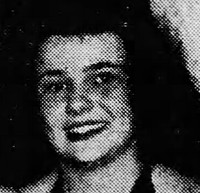 Arline Emogene West, daughter of Harvey T. (1893-1973) and Leona C. (Horner) (1899-1978) West, was born 8 November 1925 Lansing, Ingham County, Michigan. In high school Arline was one of 4 participants in the 1942 contest for title, "Miss Central Michigan Labor Day Festival Queen." She graduated in 1944 from Okemos High School.
Lansing State Journal (Lansing, Michigan) Monday 1 July 1946
ARLINE WEST WEDS NORMAN GREENFIELD
Miss Arline E. West, daughter of Mr. and Mrs. Harvey West of Mason, became the bride of Norman Greenfield, son of Mr. and Mrs. Frank Greenfield of DeWitt, June 18 at First Methodist Church. Rev. Stanley Buck read the double ring service before 175 guests.
The maid of honor was Miss Mary Paden, and bridesmaids were Miss Ruby Schultz and Mrs. Eva Rohrbacher. Ringbearers were Sharry Lou Kinch and Gail Watts. Richard Rowley was groomsman, and seating guess were Robert Reese and Harold Rohrbacher. Mrs. June Reese was vocalist.
The couple left for a short honeymoon after a reception in the church parlors, and are making their home in Wacousta.
Arline married Norman Dale Greenfield 18 June 1946 Lansing. She died 23 December 1999 Florida and was interred Chapel Hill Memorial Gardens, DeWitt, Clinton County, Michigan
Lansing State Journal (Lansing, Michigan) Tuesday 18 December 1999
GREENFIELD, ARLINE, 74, of Sebring, Florida, died Thursday. Services 10 a.m. Friday at Gorsline-Runciman Lansing Chapel