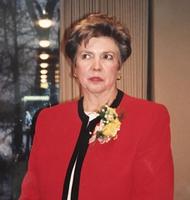 Beverly Jean McKane class of 1950, 88, went to meet her heavenly Father August 13, 2021. She was born on November 23, 1932 and at the age of four was adopted by William and Della McKane of Okemos, Michigan. Beverly lived her entire life at her family home in Okemos, MI.
She graduated from Okemos High School then went to work at Michigan School Supply in Lansing. After 20 year there she accepted a position at Michigan State University Campus Bookstore. She supervised many students and loved to tell her friends and family stories of all their antics. Beverly loved all kinds of music and she loved the movies, especially the old musicals with Fred Astaire & Ginger Rogers, and she could tell you what popular song came from what movie. Her favorite food was popcorn and you could often tell she was munching on it while talking to you on the phone. Those who knew Beverly knew she had a big heart and when she saw a need, she could raise money to help with expenses. Beverly was a member of the First Baptist Church of Okemos for many years.
Beverly was preceded in death by her parents, William T. and Della McKane; her brother, William S. McKane; her sister, Lucille Evert McFarren, and her nephew, Ted Evert. She is survived by her nieces, Dora Jane Blanco, Janet McKane, Barbara Speck, and Mary McKane, and her nephew Billy Evert, along with numerous extended family members and many friends, especially Dwight & Lori Laidler and Sue Casler who considered her family.
Beverly's funeral service will be held on Thursday, August 19, 2021 at 11:00 a.m. at The First Baptist Church of Okemos/The Commons Church, 4684 Marsh Road, Okemos, MI 48864.
In lieu of flowers contributions can be made to Camp Barakel, PO Box 157, Fairview, MI 48621 or Lansing City Mission, 2216 S. Cedar, Lansing, MI 48910.
Funeral arrangements are being made by Gorsline Funeral Home, East Lansing. Fond memories and expressions of sympathy may be shared at www.greastlansing.com for the McKane family.
NOTE: I grew up in Okemos Baptist Church and Bev was always a part of any and all the church's youth activities. She was one of the adult chaperones, a companion, and friend that always was accompanying us kids any and everywhere. Being single she had the freedom to come and go and so was constantly up for an adventure. I was always amazed at her exuberance......Bev loved to laugh and she loved to have fun. One of her good friends was OHS teacher Marcia Boznango who also was very involved with the Baptist Church young people. Bev and Marcia were faithful church members and mentors back in my youth of the 1950's and 60's.
One of Bev's greatest wishes was to find a life-companion in marriage. I do remember her dating a few times but the spark never happened. She remained single all her life but in doing so honed the beautiful attribute of being a generous and loving friend. Her wide smile and laugh will always be remembered by me. She was a lovely Christian friend.
Sherrie Paty Barber '66