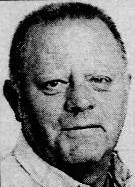 We are sad to announce that on August 12, 2021 we had to say goodbye to Robert Lewis Leiby class of 1953 (Dewitt, Michigan). May 27, 1935 - August 12, 2021 (86 years old)
Our thanks to Paul E. Roney class of 1953 for notifying us.
Robert Lewis "Bob" Leiby, son of Lewis Eugene (1904-1994) and Alma Alvina (Hoback) (1897-1954) Leiby, was born 27 May 1935, Michigan. Mr. Leiby was a homebuilder in the Lansing area for many years. The elder Lieby's were interred Mt. Hope Cemetery, Ingham County.
Bob graduated from Okemos High School in 1953. By 1955 Bob was serving in the US Army and after honorable discharge came home to marry Ellen Marie Owen on 3 April 1959. The couple would celebrate 56 years and 3 children together, living almost their entire married life in Bath Township, Clinton County, Michigan. Bob served as an elected Bath Township Trustee for many years. He was a retired mechanic for Meijer, Inc.
Ellen, born 7 July 1927, died 10 December 2015. Bob passed away 12 August 2021.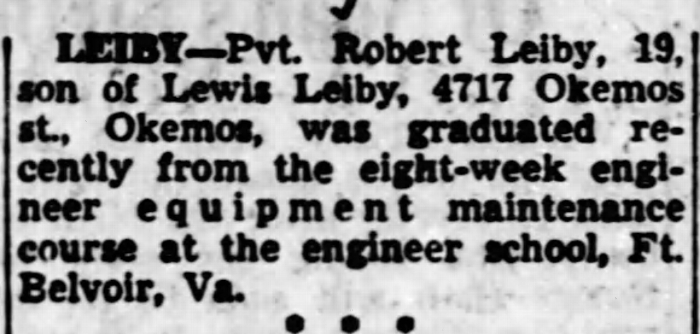 Lansing State Journal (Lansing, Michigan) Sunday 27 March 1955
Below is an obituary written by Peggy Leiby, Bob's daughter.
Robert Lewis Leiby, 5/27/1935 –August 12, 2021, Bath, MI.
Robert Lewis Leiby, born May 27, 1935, in Lansing, Michigan. His parents moved to Okemos, MI when he was a teen, where he graduated in 1953. He was called to Heaven by His Lord, August 12, 2021,at his home in Bath, MI, cared for by his children, grandchildren and Sparrow Hospice Nurse Karen Small.
He is the much-loved father of Peggy (Mike) Elsasser Brighton/Higgins Lake, Jeff Leiby, Orlando, FL, and Eric Leiby (Brenda Barton) Bath, MI. He laughingly talked of his 'extra' daughter, Tina Brya, who was his cardiac rehab exercise instructor from LCC years ago, and his 'extra son', John Post, who he golfed with for years, went on golf trips with, etc.
He was the loving husband of Ellen Marie (Owen) Leiby who pre-deceased Bob on December 10, 2015. He had 3 grandchildren, Benjamin Bashore, who pre-deceased him on June 20, 2016, and Amber (Nick) Britten, 2 great-grandchildren, Caleb, and Peyton, and Brittany (Josh) Malloy, 2 great-grandchildren, Alexis and Lucas. Also surviving him is his precious cousin Ellen (Leiby) Milleur and his much-loved sister-in-law (Ellen's sister) Fern (Owen) Thorburn. He is survived by many, many nieces and nephews and many, many golf buddies, too numerous to name.
Along with his wife and grandson, his parents, Lewis and Alma (Nobach) Leiby predeceased him, as well as his older brother, Gene Leiby.
Bob played golf beginning before he was 10 years old. As he got older, in school he played golf and also played softball, and basketball. He continued playing golf and softball after he married.
Bob was in the Army during the Korean War beginning October 14, 1954, and spoke of how pretty the other countries were that he had travelled to (near the border of Russia, Germany, Morocco, Italy, and, Austria) – his absolute favorite was Austria for its beauty. He was Spec Third Class Regular Army and was honorably discharged October 11, 1957.
Bob was the Bath Scout Master for several years while his boys were in scouts. After his heart surgery, he started a group at Sparrow Hospital called The Heart Ambassadors. They had a team of 9 people who went into heart patients' rooms 5 days a week and explained to them what was going to happen and give comfort and confidence.
He began his work career as a mechanic at Story Oldsmobile in Downtown Lansing, then moved to University Olds in Frandor. He moved on to Diamond REO from 1964 – 1974 when REO was forced into bankruptcy. He was the Union Shop Steward. He also was President of the Diamond REO Credit Union. REO came along and said they were closing the Credit Union and leaving the employees money in there. Dad said NO – the employees would lose their money and their homes. Bob and the Board found another credit union who was willing to take over the employee's assets and home mortgages. He worked hard and tirelessly to help the employees save their assets, and homes. Bob, along with Sharon Dilley of the credit union, worked to create a program for employees so they wouldn't lose everything.
He moved on to Waverly Schools and oversaw their fleet of busses. After several years, he went to Heart Truss and Engineering where he oversaw the mechanics and oversaw their fleet of trucks. He moved on to Meijer Fleet Division and retired from there after 15 years.
Bob lived in Okemos until he married Ellen Marie Owen from Mason, and then lived in the Bath area in the same house they purchased in 1962 on Angle Road for the rest of his life.
He was a highly respected Bath Township official for 28 years on the Board of Trustees. He oversaw the construction of the Bath Township Senior Center. He made sure things moved along as planned. He also helped get the Bath Fire Barn constructed. He was on the Township Board of Appeals (Board of Review) until the time he passed away. He was on the Road Commission, and the Bath Township Planning Commission. He worked the elections and loved to meet and greet the people and help them as they needed. He was asked to be on the Planning Committee for the Bath Schools within the past few years.
He loved being on the Board of Trustees especially during 1998 – 2002. He told Peggy "we didn't worry about being a Republican or a Democrat – Members of the Board worked together and got things done. We compromised with one another and were able to work out our problems and conflicts".
While his children went to Lansing Christian School, he would volunteer his time, after work, late into the night, to keep the busses on the roads. He worked alongside Lewis Schnabelrauch, when it could be hot and muggy or freezing cold to keep the busses on the roads. These two men kept the busses in great shape.
He was a volunteer at the Clinton County Food Bank and on their Committee. They worked on the logistics of the amount of food that was needed and how to distribute it. He volunteered at the MSU Football Games. He volunteered at Walnut Hills Golf & Country Club when the LPGA came to town. He loved it. He worked the entire tournament, walking with a sign or standing along the lines to quiet people down.
He loved the old time hymns and missed singing them in Church – Fanny J. Crosby hymns were hymns he loved! He loved the piano and often told Benjamin, if you can play the piano, you'll have a job anywhere! He found a lot of Boogie Woogie piano music on the internet when he figured out You Tube…much to the displeasure of Peggy, Amber and Brittany, as they used to be the ones he would call and say, "how do I make this thing work??"
Before he married, he'd go to dancehalls and dance to Polka music– and then since Ellen didn't dance Polka, he stopped. He picked Polka music up in 2019 and loved to BLARE it!!
Bob Leiby golfed from a very early childhood age until 2017. He had five Holes In One and wanted so badly to get 1 more before he passed away. He began a Thursday night golf league which was named MPC, was renamed the 'BLT League" by the golf members -- The Bob Leiby Tribute League (BLT). One of his golf members did a wonderful thing on Thursday, August 12th for golf league – even before Bob passed away that morning. To honor and commemorate Bob, they arranged for Bagpipes to be playing during the annual Ryder Cup Matches.
Bob was baptized at Lakeside Chapel on February 2, 1972. Bob and Ellen were members of Lakeside Chapel of Park Lake since March 1987.He loved his church, and he loved His God.
He said that LOVE was the most important thing. "What I have lived to show people is that love is the most important thing in the world. God said to "Love your neighbor as Christ loved us". "Christ will always love us– it's a big thing".
A celebration of Bob's life will be held on Sunday, August 22, 2021, at 3:30pm beginning with a short Military Service, followed by his Celebration of Life Service by Pastor Tom Van Dyke and Pastor Mike Geiger of Lakeside Chapel.
Eagle Eye Golf Club
15500 Chandler Road
Bath Twp, MI 48808
Donations, in lieu of flowers, may be directed to Sparrow Hospice or Lakeside Chapel in memory of Robert L. Leiby.
As were the wishes of their parents, they have both been cremated will be laid to rest by the family at a graveside ceremony at Bath's Pleasant Hill Cemetery.
He was a man who always had a smile. A man with the biggest heart. An encourager. A man with a Servant's Heart. He will be deeply missed by so many.
https://www.echovita.com/us/obituaries/mi/dewitt/robert-lewis-leiby-13165611