Thomas Aaron, Class of 1959
The game of life came to a close for ardent sports fan Thomas Edward Aaron, 80, on June 21, 2022.
Mr. Aaron, of SaddleBrooke, AZ, completed the final minutes of his life's contest with his loving wife and three children by his side.
He was born August 30, 1941 in Lansing, MI, the son of George R. and Emily C. Aaron. He was raised in Okemos, MI and graduated Okemos High School 1959, Michigan State University 1964 and did his graduate degree at the University of Illinois, Champaign-Urbana. Doing further work later at Lake Superior State University. He was also a member of the Michigan National Guard.
During his youth he spent many happy summers at the family cottage on Lake Missaukee.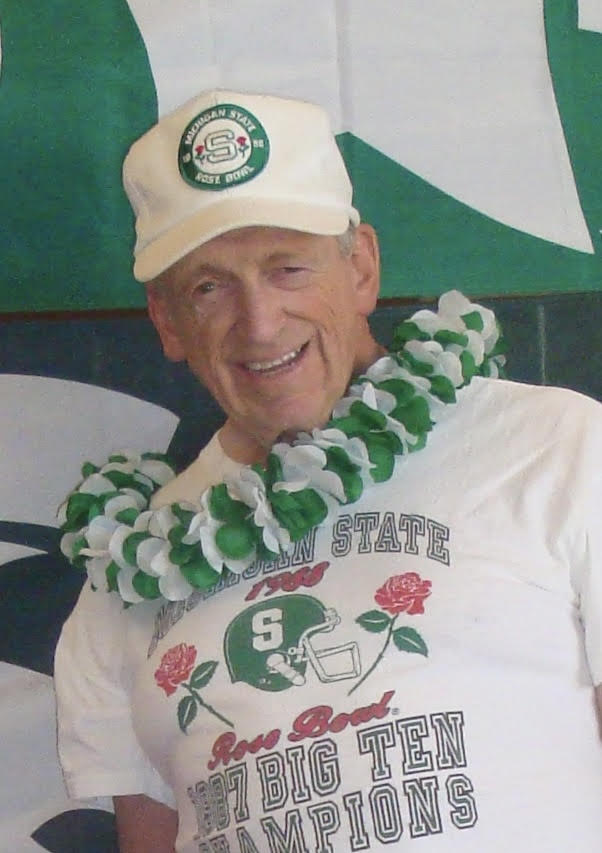 He met his future wife, Diane, at Michigan State and they were married in the Alumni Chapel on campus. Together they enjoyed going to college football, basketball and hockey games. He was passionate about Michigan State sports, attending as many sporting events as possible, traveling many years to the Maui Invitational and the Final Four. A highlight for him was Michigan State's win over USC at the 1988 Rose Bowl (pictured). That event was capped by seeing our daughter Holly on the field in the USC Marching Band!
While in graduate school, he taught high school science classes and following the couple's return to Michigan to raise their children, he also taught science in Troy, MI.
After his brief career as a teacher, he was one of the first employees of the Michigan State Lottery, serving as district manager in Michigan's Upper Peninsula, based in Escanaba. He imbued his children with a love of nature and the outdoors, camping and visiting remote areas in the U.P. As a family they enjoyed all the winter sports the U.P. offered, such as skiing, ice skating and tobogganing.
Mr. Aaron retired in 1997 and he and his wife built a home in SaddleBrooke and added athletics at the University of Arizona to the sports teams he cheered on.
The former high school athlete, played out his final game at University Medical Center in Tucson, AZ of complications following a massive heart attack and fall.
He was preceded in death by his parents and brother, G. Russell Aaron, also an Okemo's High School graduate. Surviving are his wife of 57 years, Diane, and children Kristine Aaron-Jacobi (Thomas, another Okemos graduate) of San Diego, CA; Holly L. Aaron (David Peterson) of Kensington, CA; and Erik T. Aaron of Mission Viejo, CA.
His ashes will be scattered in the ocean at his former place on Kauai, HI in a private family service. Memorials in his name may be made to SaddleBrooke Community Outreach Kids' Closet or to Senior Village of SaddleBrooke.
Thank you to Tom's wife, Diane, for informing us with this loving memorial. (Her contact: daaron65@gmail.com)