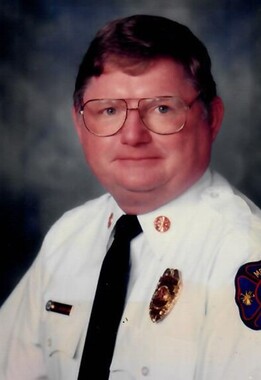 Phillip C. Johnson class of 1961 ( December 08, 1942 - October 12, 2021 ) Phillip C. Johnson, age 78, of Traverse City, Michigan, died October 12, 2021. He was born December 8, 1942, in St. Joseph, Michigan to John and Elvera Johnson.
Phillip graduated Okemos High School in 1961. He then attended Western Michigan University where he graduated with a Bachelor's degree in Business Administration in 1965, followed by Graduate work in Education receiving his teaching certificate. In 1968, he moved to Northern Michigan to work as a Deputy for the Benzie County Sherriff's Department. Shortly after, he met Jean White who he married in 1970. Together they moved back to Okemos, Michigan, where Phillip worked for his father's business, Johnson Painting Company from 1970-1974.
He then began his career with the Meridian Township Fire Department as a Firefighter in 1974… retiring as Fire Chief in 1997. Following retirement, Phillip moved back to Northern Michigan settling in the Lake Ann area.
Phillip was very proud of his children, grandchildren, and their accomplishments. He loved his boats, golden retrievers, fishing, Lake Michigan, and spending time in the workshop. Phil gave willingly of his time to the communities he lived in, whether in the Lansing area or Northern Michigan. Willing to help others, he was the ever-present handyman with his truck and tools.
Phillip is survived by: his former wife, Jean Johnson (White) of Lake Ann; daughter, Brandi Johnson of Sarasota, FL; son, Brent (Stephanie) Johnson of Lansing; grandchildren, Evan and Sarah Johnson of Lansing; sister, Lynne Kenworthy of Kasson, MN; and numerous nieces and nephews. Phillip was preceded in death by: his parents, John and Elvera Johnson; nephew, John Kenworthy; and former parents' in-law, Ole and Helen White.
A celebration of life visitation will be held from 4-6pm on Saturday, October 23, 2021, at Bennett-Barz Funeral Home in Beulah, Michigan. The family would like to thank Medilodge of Traverse City and Heartland Hospice for their care of Phillip. In lieu of flowers, memorial contributions may be made to Almira Township Fire Department. Phillip, son of John Cornelius Johnson (1913-1991) and Elvera Dagmar Piehl (1916-1983), was born in St. Joseph, Berrien County, Michigan. He married Jean Helen White, 27 June 1970.
For printable article:

Our thanks to Elaine Dorn Preston class of 1961 for informing us.
https://obituaries.record-eagle.com/obituary/phillip-johnson-1083530318