Roger TenEyck Stoll class of 1961
( August 28, 1943 - October 30, 2022 )
Roger TenEyck Stoll, 79, of Wildwood passed away on October 30, 2022. Born on August 28, 1943, in Lansing, Michigan, Roger was the second of three children of Erma Grace (Vasold) Stoll and Kenneth Charles Stoll. He attended grade school in Lansing and high school in Okemos (Class of 1961), Michigan, where he enjoyed playing basketball and football. Roger earned his undergraduate degree in civil engineering and MBA from Michigan State University where he was also a member of the Phi Delta Theta fraternity. Roger worked for United States Steel Corporation for over 35 years, his entire career, living at various points in Pittsburgh, Cincinnati and then St. Louis, where he had lived since 1987.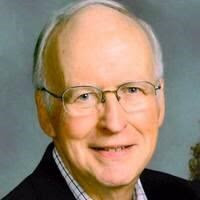 Roger was incredibly friendly and generous, volunteering his time in a variety of ways at St. Mark Presbyterian church, including leadership with the Businesspersons Between Jobs (BBJ) organization for many years. Roger spent much of his spare time working in the yard, bird watching, coin collecting, and running model trains. Throughout his life, Roger also maintained a passion for spending time outdoors. He especially loved hunting, fishing, skiing, and golfing, often sharing the experience with his sons and grandchildren.
Roger is survived by his devoted wife of 55 years, Martha (Leeman) Stoll; his two sons David (Denise) Stoll and Douglas (Maureen) Stoll, his beloved grandchildren RJ, Carly, Tayton, Grace, Weston, and Janelle; and his sister Christine (Joe) Bostater. Roger was preceded in death by his brother Charles Stoll.
Services: A Celebration of Life will be held at St. Mark Presbyterian Church, 601 Claymont Drive, Ballwin, Saturday, November 19, 2022 from 10:00 a.m. until time of the memorial service at 11:00 a.m. In lieu of flowers, contributions may be made to St. Mark Presbyterian Church. As a service of the SCHRADER Funeral Home and Crematory, friends may sign the family's on-line guestbook at Schrader.com.
Thanks to classmate Janet Kalush Moore for informing us of Roger's passing.