Karen Irene Eby, born 22 January 1950 in Detroit, Wayne County, Michigan, died 15 August 1993 in Lansing, Ingham County.
Lansing State Journal (Lansing, Michigan) Sunday 22 August 1993
HASLETT
Eby, Karen I., 43, died Saturday. Arrangements by Gorsline-Runciman East Chapel, East Lansing.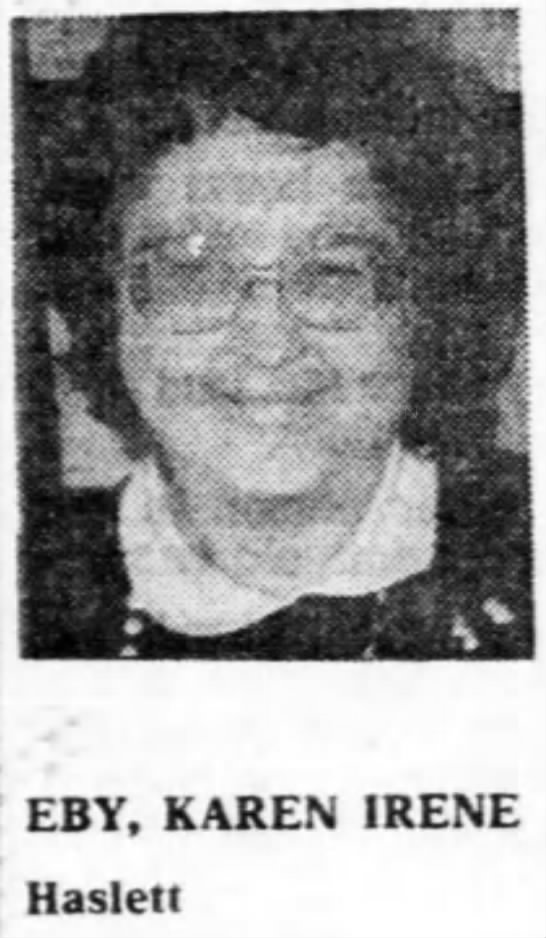 Karen Eby class of 1969 Haslett Age 43. passed away August 21. 1993. Born January 22, 1950 in Detroit: graduated from Okemos High School in 1968.
Karen was a very caring volunteer for the elderly for the last 20 years. She loved to communicate with people by phone, correspondence, prose and poetic writings.
Surviving are her mother, Jeanne B. (Robert B.) Hotaling of Haslett; father, Bruce B. (Rose Marie) Eby of Novato, CA; 4 brothers, Gary (Susan) Eby, Brock, Richard and William Hotaling: 2 sisters. Pamela (Philip) Gardner and Marilyn Hotaling.
Memorial services will be held Saturday. September 11, 10 a.m. at All Saints Episcopal Church, 80 Abbott Rd., East Lansing. Interment will follow in the All Saints Memorial Garden. The family will receive friends following the service.
Friends desiring may make contributions to ALFA. 201 Hillside Ct. East Lansing 48823 or Intergen-erational Community Center. 13060 U.S. 27. DeWitt 48820 in memory of Karen. The family was served by Gorsline-Runciman Co. East Chapel, East Lansing.