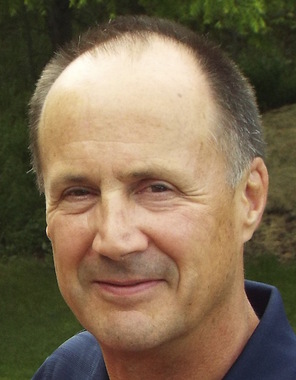 David G. Follette class of 1970, passed away at home on Friday, July 30, 2021 after a brief but brave battle against cancer.
David was born on March 9, 1952, to Walter D. and Virginia M. Follette (Morse) in Haslett. David spent his growing up years in Okemos, where he made many great friendships, especially his buddy, Mort Smythe.
His teen years and early 20's were full of concerts, parties and good times. He followed a friend to Traverse City to attend Northwestern Michigan College, which is where he met Cheryl in geography class. For Cheryl it was literally love at first sight, it took David a bit longer, but he got there. David and Cheryl had five years together before they married in 1978, and just had their 43rd wedding anniversary in June.
David's greatest joy was his family. He produced two beautiful daughters, Haley Hathaway (Adam) and Bailey Nuss (Jeremy). They in turn created five beautiful, intelligent and beloved grandchildren, Lily, Landon and Harrison Hathaway and Cortland and Theodore Nuss.
His life was spent making sure his family's needs were met, and that there were always good memories to hold onto. The grands said that Grampa taught them how to drive the golf cart, took them fishing and golfing, made certain they understood the importance of being a Spartan fan, and that they loved him. What more could you want?
David's work career was mainly spent engineering and selling roof and floor trusses for several companies. When the economy crashed in 2008, the building trades disappeared. Always a hard worker, David went to work at Munson as a greeter where he worked with a really great group of guys. He received many accolades from patients and co-workers alike about his friendliness and work ethic. People loved David.
Being married to Cheryl could not have been the easiest role, but David was an incredible partner. Whether she was uprooting the family to go to law school, running for office again and again, building a house on Drummond or changing jobs, David was always supportive. He did say if she ran for judge again he'd divorce her, but that's another story. He was the nice one and she was the cranky one, and they made it work. He was the love of her life.
David was blessed with a multitude of family, and out of respect for his budgetary practices, they won't all be named. But in addition to those above are his brother, Dan Follette (Ruth); Clint (Sally) Gore; Kenny Niel; Pam Gore; the incredible Drummond Island Ledy crew; and the remaining Gore aunts, uncles and cousins. All of you were important to him and he loved you.
David was equally blessed with dear friends, including Dave and Joan Boyd, Jean and Pat Derenzy, Linda and Leonard Fawcett and Dave and Cathie Martin. This group of friends was so steadfast throughout his illness and he was grateful for each of you.
David had been hoping to begin enjoying the "fruits of his labor" in retirement when this awful cancer struck. But as he talked about his life with Cheryl he realized that he had already had a wonderful, adventure-filled life overflowing with love and blessings. He would want each of you to thank God for your gifts, to love one another, to love your country and to work hard and live an honest life. He certainly did.
Visitation will be Monday, Aug. 2, 2021 from 4 to 6:00 p.m. at Reynolds-Johnkoff Funeral Home.
Services will be held Tuesday, Aug. 3, 2021 at 11:30 a.m. at Central United Methodist Church in Traverse City, with lunch to follow in the community room.
Persons wishing to make a gift of remembrance are asked to consider TART Trails or Zonta Scholarship for Change at Northwestern Michigan College.
Published on August 1, 2021
Our thanks and sympathy to Daniel Follette class of 1965 for informing us.
https://obituaries.record-eagle.com/obituary/david-follette-1082924095