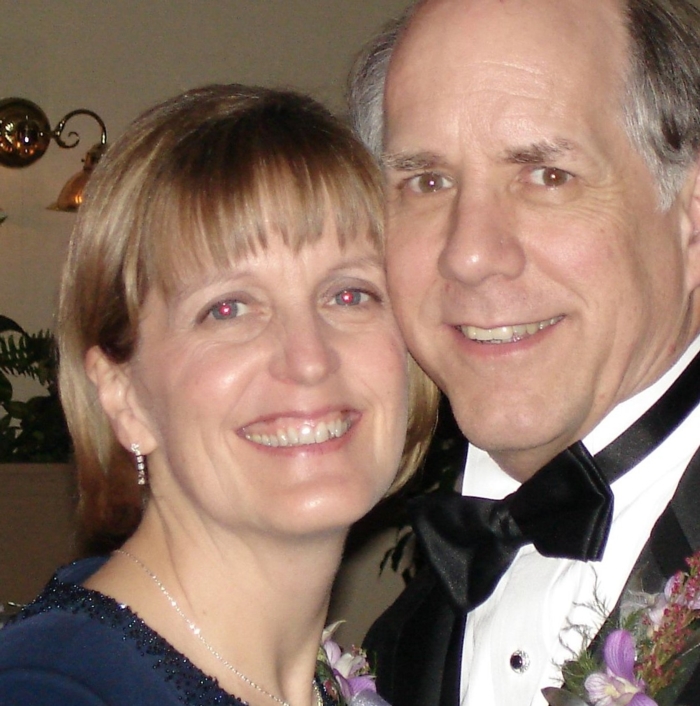 Nancy Hermsen Halliday class of 1971
Nancy R. Halliday Mar. 20, 1953 - Aug. 18, 2015 GRANGER - Nancy R. Halliday, 62, of Granger, died Tuesday, August 18, 2015, at St. Joseph Care Center, Mishawaka. Nancy was born March 20, 1953, in Hinsdale, IL, to the late Renate (Ewert) and Albert Hermsen.
On July 3, 1971, in Okemos, MI, she married Daniel L. Halliday [OHS class of 1970], who survives. She is also survived by her daughter, Karen Metzdorf (Mark) of Aurora, IL; two grandchildren, Ryan and Benjamin Metzdorf; her sister, Carol Hermsen (Doug Heil) of Industry, Penn.; two brothers, Albert Hermsen II (Cindy) of Fenton, MI, and Terry Hermsen (Leslie Beyer Hermsen) of Delaware, OH; her nephews and nieces, Isa Mauch (Jason) and her children, Nate and Jackie, Albert Hermsen III, Michelle Allen (Jordan), Jennifer Hermsen, Sara Fisher (Josh), Noel Hermsen, Noah Beyer Hermsen, Andrea Craven (Joel) and her son, Jack, and Michael Munger (Erin), Dave Halliday (Carol), Dallas, TX.
Nancy lived 62 beautiful years here on earth and has now moved on to heaven to shine there too. Other family and friends who traveled there before her, especially her daughter Amanda and her parents, have welcomed her with smiles on their faces, just like we always did here on earth.
Nancy had a wonderful life, beginning with being raised by two very caring and loving parents. She then married Dan, the perfect man for her, who was also her high school sweetheart. She earned a degree in education at Michigan State University and remained a loyal Spartan for life. She began her career as a kindergarten teacher, but found her true passion teaching pre-school, until retiring in 2014. Nancy and Dan had two fantastic daughters, to whom she was completely devoted, and they were the joy of her life.
Nancy was greatly saddened when her daughter, Amanda, passed away from leukemia at age 16. But Nancy was strong and continued her passion for life with her daughter, Karen they are best friends. Karen married her high school sweetheart too and brought Nancy more joy with two grandsons. Nancy was equally devoted to her grandsons and spent many hours with them during the last four years. Nancy was a loving wife, mother, grandmother, sister and friend.
Knowing Nancy was a blessing to us all. She was a genuinely loving woman, uniquely special to all who knew her. One of her greatest joys was in being needed by others, and in doing anything possible to make someone else's world a better place to be. She was deeply spiritual, abundantly wise, kind in nature, and had a love for animals (felines in particular) which was only surpassed by her love for her family who provided the core and foundation for her creative self-expression, from homemaking and gardening to parenting followed by grand-parenting which became her most satisfying and gratitude filled life experience. She loved to laugh and found deep pleasure in life's simple joys, from a grandchild's smile to a cat's purr. Nancy felt grateful for her many diverse roles in the lives of others. She would want you to know, that: "All I want from you is forever to Remember Me as Loving You."
Visitation will be held from 3-6 p.m. Saturday, August 22, 2015, in the Welsheimer Family Funeral Home North, 17033 Cleveland Rd. Come help us celebrate Nancy's life at 1:30 p.m. Sunday, August 23, 2015, in Christ the King Lutheran Church, 17195 Cleveland Rd. Burial will be later at Chapel Hill Memorial Gardens. In lieu of flowers, memorial contributions are suggested to be made to American Cancer Society of North Central Indiana, 130 Red Coach Dr., Mishawaka, IN 46545. E-mail condolences may be made at www.welsheimer.com.
Published by South Bend Tribune from Aug. 20 to Aug. 21, 2015.
Our thanks to Holly Perry class of 1971 for notification.
https://www.legacy.com/us/obituaries/southbendtribune/name/nancy-halliday-obituary?id=7738067