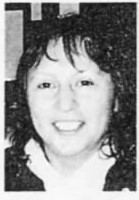 Joyce Ann (McMillan) Rueckert class of 1973, age 54, of Clare, Michigan, passed away on Wednesday, January 28, 2009 at the Laurels of Mt. Pleasant in Mt. Pleasant, Michigan. Joyce was born on Thursday, November 25, 1954 in Lansing, Michigan, the daughter of Archie Edwin and Esther Agnes (Evans) McMillan.
Joyce was employed for the Saginaw Chippewa Indian Tribe in Tribal Operations where she worked as an internal auditor for twenty years. She was a member of the Little Traverse Bay Band of Odawa Indians in Petoskey. She was a resident of the Mt. Pleasant and Clare area for the past twenty years. Hobbies included playing golf, doing beadwork crafts, sewing, and bowling.
Memorial services will be held for family and friends on Saturday, January 31, 2009 at 2 p.m. from the Helms Funeral Home in Mt. Pleasant. Interment of the cremated remains will take place in East Lawn Memory Gardens in Okemos, Michigan at a later date. Friends thinking of making a contribution in Joyce's memory may consider the needs of the young members of her family. Envelopes are available at the funeral home.
Joyce is survived by her four sons, Matthew (Anglyn) Makomenaw of Mt. Pleasant, Marc (Teresa) VanAlstine of Mt. Pleasant, Wayne and Zachary Young, both of Mt. Pleasant; one granddaughter, Odeno Makomenaw; two brothers, Archie (Marie) McMillan of Lansing, and Donald McMillan of Mt. Pleasant; seven sisters: Arvilla (Mike) Bateman of East Lansing, Joan (Brent) Brown of Simpsonville, SC, Janice (Richard) Beckhorn of Lansing, Marie Simmons, Carol (Richard) Hubble, Sue Vertz, and Audrey Hegenbarth, all of Mt. Pleasant; along with many nieces and nephews. Joyce was preceded in death by her parents, two brothers, Jerry and Bruce McMillan, and a sister, Judith Tackett.
Please see www.helmsfuneralhome.com for an online obituary and to leave a message for the family. 'Serving the Family for Generations.' (NOTE: it appears Helms Funeral Home may no longer be operating under this name, as no website could be found.)
Published Lansing State Journal 29 Jan 2009.