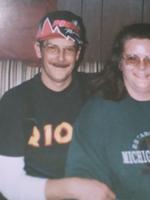 Tracy Lynn Morse, son of Perry Eugene (1930-1995) and Geraldine (Spooner) Morse, was born 14 September 1959, Lansing, Ingham County, Michigan. He graduated in 1978 from Okemos High School.
Tracy married Kimberly Kay Lee 15 August 1992, Laingsburg, Shiawassee County, Michigan. He was employed by the Greater Lansing Janitorial and Bud Kouts Chevrolet. Tracy died 24 December 2000, Ingham County and was interred Laingsburg Cemetery, Shiawassee County.
Lansing State Journal (Lansing, Michigan) Monday 25 December 2000
MORSE, TRACY LYNN
LAINGSBURG
We have lost a loving husband, father, son and friend. Tracey, age 41, died Sunday, December 24, 2000 at Hospice House of Mid-Michigan. He was born in Lansing on September 14, 1959 to Perry and Geraldine (Spooner) Morse. He attended Okemos Public Schools and resided most of his life in Laingsburg. One August 15, 1992 he married Lee Kimberlykk (spelling error!) in Laingsburg. His hobbies included hunting, fishing and auto mechanics. He was a former employee of the City of E. Lansing, Greater Lansing Janitorial and Bud Kouts Chevrolet. He is survived by his wife, Kimberly, son, Christopher; mother, Geraldine; sister, Nancy Grambrel; brothers, Robert (Beverly), Jon (Wendy) and Duane and (Sally); mother-in-law, Laurel Phinney; brother-in-law, Kenneth (Annette) Lee, Steven (Tracey) Kim and very special friend, David House, several nieces and nephews and many friends. A memorial service will be held Wednesday, 2 p.m. at Watkins Brothers Funeral Homes (McDougall Chapel) Laingsburg, with Fr. Duaine H. Pamment officiating.