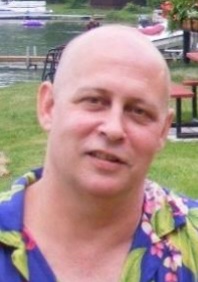 David Lawrence Sikarskie, Jr class of 1981, aged 59 died unexpectedly at his home in Mason, MI on Thursday, March 9th, 2023. Born on July 4th, 1963 to parents David Lawrence Sikarskie Sr. and Marcia Sikarskie-Rhodes (Blum), David grew up in Ann Arbor before moving to Okemos where he graduated in 1981 from Okemos High School.
Upon graduation, he entered the United States Navy, where he continued his love of the ocean that stayed with him throughout his life. After the completion of his service in the Navy, he pursued a successful career in the culinary arts and held various chef positions in highly acclaimed restaurants throughout the United States.
Feeling fulfilled in his achievements, David decided to change careers to follow his other passion, mechanics. He worked at Michigan State University for over 20 years as a food service mechanic and later started his own successful company as a skilled technician in heating, ventilation, air conditioning, and refrigeration.
He married his childhood neighbor, Sherri Hansen (Tussing) in 1987, with whom he shared his only child, Ryan Sikarskie, his absolute pride and joy. David maintained a lifelong friendship and special closeness with Sherri and his brother-in-law, Rollie Tussing Jr., even after their divorce.
His greatest joys in addition to his son and family included fishing, especially during his numerous trips to Florida, taking his boat out on every body of water he could find, cooking, and continuously learning and sharing his many interests (space, the natural world, science, etc.) with his family and friends.
He will be forever missed by his son, Ryan Sikarskie; mother, Marcia Sikarskie-Rhodes (Blum); sister, Anya Anderson (Sikarskie); half-brother, James B. Sikarskie (Michelle), grandchildren, Rayna, Lola, and Reece Sikarskie; niece, Ellary Anderson; and numerous cousins, aunts, uncles and wonderful friends and neighbors. He was preceded in death by his father, David L. Sikarskie Sr., and brother, Paul Benjamin Sikarskie.
David will be fondly remembered for his intellect, sense of humor, heart of gold, and ease in forming strong relationships throughout his life with those lucky enough to know him.
A celebration of David's life for family and friends will be held at Klavon's Restaurant, 318 W. Kipp Road Mason, MI 48845 517.604.6565 on Saturday, March 25th from 5pm to 8pm. If you would like to send pictures or share memories with the family for the celebration, please email them to anderson.ellary@outlook.com.
https://obits.mlive.com/us/obituaries/annarbor/name/david-sikarskie-obituary?id=50597328