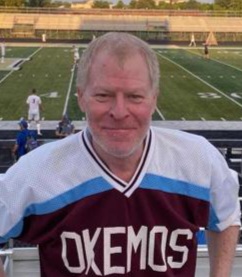 Daniel John Trahan, class of 1984, died on September 14. 2023.
MCKINNEY - Daniel John Trahan was born October 9, 1966 and resided in Okemos, Michigan. Upon graduating Michigan State University with a Master of Science in Mechanical Engineer­ ing, Dan moved to Seattle where he met Marie Jarosz, the mother of his children. From there he spent the remaining 27 years of his life in McKinney, Texas where he raised his family and built long lasting friendships.
Dan was a man who exuded passion: for soccer, for his family, for his friends. He shared this energy as a player, coach, and fan of both his sons and Chelsea Football Club. This intensity extended into his professional duties, as he excelled within the aerospace industry. He valued his professional relationships and friendships with colleagues.
Predeceased by his parents and Marie, Dan is survived by his sons Haven and Derian and his sister Susan (Mike Moen). Also, Marie's family sister Jennifer Jarosz (Mike Benzie), father John Jarosz (Lesly), and mother Linda Vick (Jerry).
He will be remembered as a dad, brother, friend, coach, and second "father" to many.
A memorial will be held from 1:00-3:00 PM on November 11th at the Local Yocal in McKinney, TX. All of Dan's friends are welcome.
A memorial fund for the Okemos High School Boys Soccer Team has been established in Dan's honor. Contributions can be made at:
https://okemosk12.revtrak.net/hs/hs-athletics/hs-athletic-fundraising/#/f/HS-Boys-Soccer---Dan-Trahan-Memorial-Fund
https://www.legacy.com/obituaries/name/daniel-trahan-obituary?pid=205486384