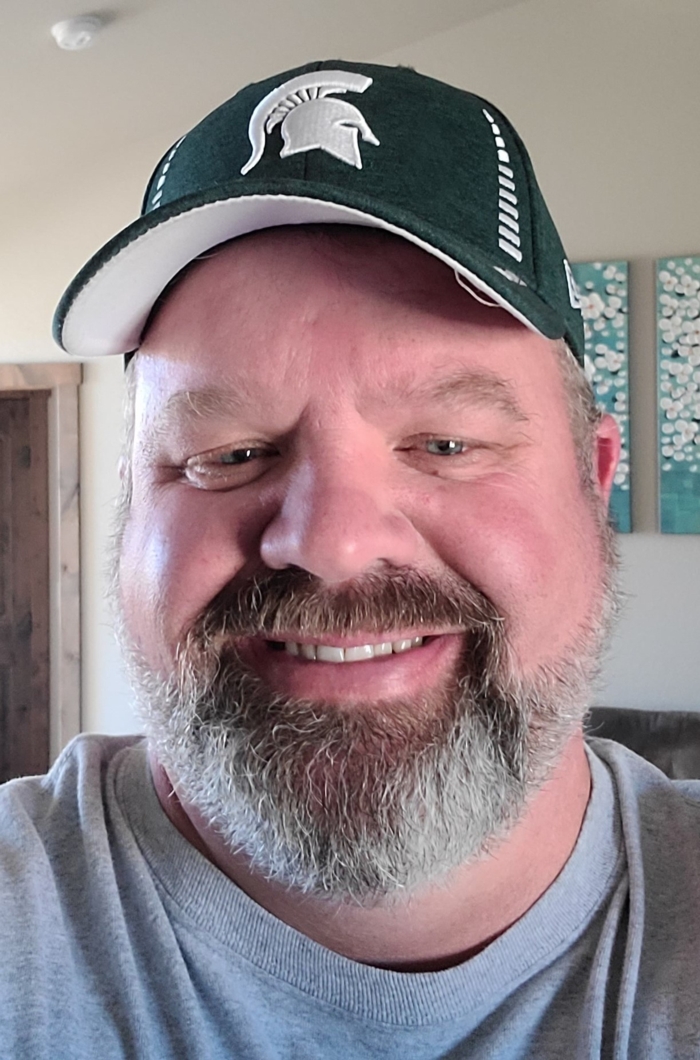 Thomas Slack class of 1990, age 52, of Loveland, Colorado, passed away unexpectedly on October 2, 2023. Thomas Irving Slack was born on May 14, 1971, in Lansing, Michigan, the youngest of four children born to John Edgar Slack Sr. and Nancy Noele (Miller) Slack. He spent his younger years in Michigan, where he attended school and graduated from Okemos High School in 1990.
At just 19 years old, Thomas enlisted in the United States Navy. He was an aviation maintenance technician for several years. Thomas was elevated to teaching and supervising other aviation technicians. He worked his way up through the ranks and retired as an E-8 (ADCS) Senior Chief. He was driven and dedicated to working hard every single day. Thomas was very protective in nature, and always made sure his pilots were kept safe. While in the Navy, he obtained a bachelor's degree in Aeronautics from Embry-Riddle Aeronautical University. Thomas dedicated his life to protecting and serving his country, and he did so proudly for nearly 26 years. He served multiple tours and was a highly decorated retiree. Thomas served with true honor and distinction. He was always very thankful for the time he spent in the Navy, the valuable lessons he learned, and the lifelong shipmates and friends he gained.
One of his biggest accomplishments in life was becoming a proud father to his daughter, Kendra. She truly was his pride and joy.
Thomas was an avid outdoorsman. In his free time, he enjoyed hunting, fishing, hiking, as well as building and shooting guns. He also was a member of the Colorado Scuba Diving Academy, where he discovered a new passion. He enjoyed traveling and visiting new places around the world. Thomas was a beloved father, son, brother, uncle, and a true friend. He'll be long remembered, whenever we say, "Fair winds and a following sea".
He was preceded in death by his grandparents, Royal and Iva Slack; and Irving and Elizabeth Miller.
Thomas is survived by his parents John and Nancy Slack of Wanette; daughter Kendra Slack; stepson Trevor Martina; and former wife Damian Moomey of Cheyenne, Wyoming; sisters Marysue Farris and husband Jerry of Wanette; and Amy Hutchison and husband Judd of Streamwood, Illinois; brother John Edgar Slack Jr. and wife Cindy of Dewitt, Michigan; nieces Amanda Johnson and husband Ronnie and their son Andrew; Haidyn Slack; nephews Justin Farris and wife Heather and their children Mason, Audrei, JJ, and Ali; Nicholas Farris; and Cooper Slack; his loving golden retriever Copper; several aunts, uncles, cousins, and a host of other family and friends.
A Celebration of Life is scheduled for 10:00 A.M. Friday, October 20, 2023, at Little's Chapel in Purcell. www.wilsonlittle.com
Our thanks to Penny Tucker class of 1990 for notification.
---
Posted by Amanda Farris Johnson:
"It is with heavy hearts that our family sadly announces the passing of Thomas. He succumbed to a tragic accident while diving in Mexico. He was doing what he very much enjoyed and had been ecstatic to start his excursion.
"We are actively working with the American consulate to repatriate Thomas to the States, and planning his memorial as we process the grief of his unexpected passing.
"More details of his memorial will be forthcoming as we solidify the dates and locations."
---