Scott "Scotty" Richard Liskiewicz

class of 1992
May 8, 1974

–

June 15, 2022
Scott R. Liskiewicz, 48, of Kalamazoo, Michigan, beloved son, brother, cousin, colleague, and friend, died unexpectedly June 15, 2022.
Scotty, as he was known, had an outstanding work ethic, a passion for blues music which he skillfully played on guitar, and loved his family fiercely. He was very close to his brother, Jeffrey. He was kind, fun-loving and compassionate.
Scott was born in Detroit, Michigan to father Richard and mother Diane. As an adult, Scott developed an interest in tennis and musical theater. He moved to Kalamazoo to attend Western Michigan University where he began a career in the culinary arts, most recently serving as executive chef at Maru Sushi & Grill. Colleagues described his positivity and passion for food and people as infectious. At work, he was always "the first person who said hello every day and the last to say goodbye".
Scott loved to cheer on the Detroit Lions and make people laugh with his sharp sense of humor. He was a loving pet dad to beloved dog Sydney and cat Rudy.
He will be remembered as always trying to help the people around him see the joy in their lives.
He is survived by his mother and father, two aunts, Kathy and Lola, and five cousins. He is preceded in death by his brother, Jeffrey Liskiewicz class of 1988.
A Mass of Christian Burial for both Scott and his mother Diane, will be held at 11:00 a.m. on Saturday, August 6, 2022 at St. Martha Catholic Church, 1100 W. Grand River Rd., Okemos, Michigan 48864 with Father Michael Murray as Celebrant. Scott's family will receive friends thirty minutes prior to Mass. Out of an abundance of caution, given the rise in COVID cases, masks will be provided during the services. A private committal service will be held at Glendale Cemetery, Okemos.
In lieu of flowers, memorial contributions in Scott's name, can be made to the Society for the Prevention of Cruelty to Animals (ASPCA) of Southwest Michigan, located in Kalamazoo, MI. https://spcaswmich.org/donate/
The family is being served by Gorsline Runciman Funeral Homes East Lansing Chapel. To leave a cherished memory or words of sympathy for Scott's family please visit www.greastlansing.com.
---
Link to You Tube video: Tribute to Scott Liskiewicz posted 04 Aug 2022 by Michael Beno.
Link to You Tube video: Diane and Scott Liskiewicz Memorial Tribute posted 04 Aug 2022 by Michael Beno.
---
KALAMAZOO'S EXECUTIVE CHEF SCOTT LISKIEWICZ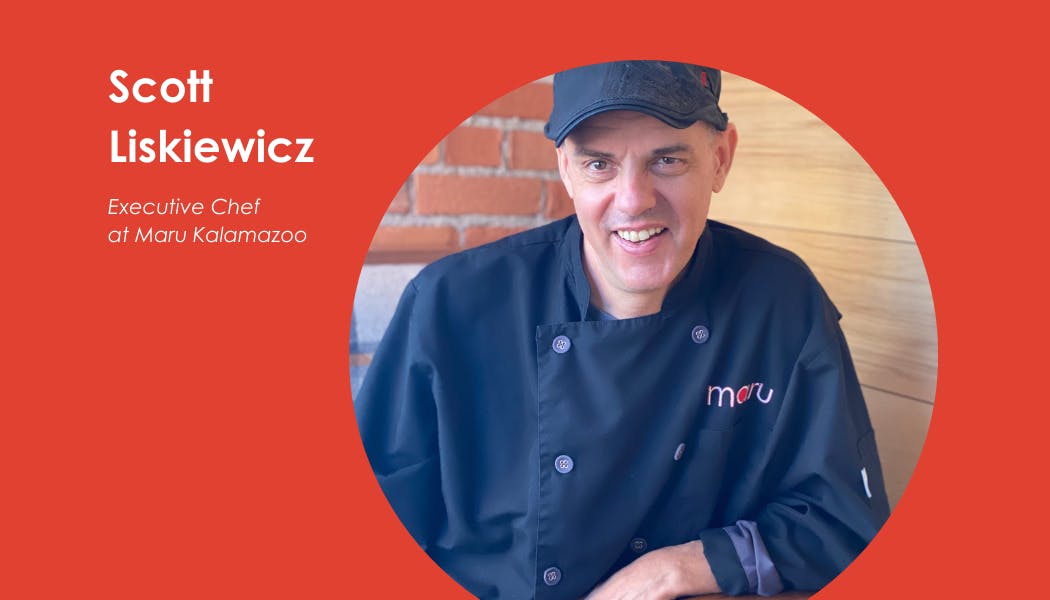 Meet Maru Kalamazoo's Executive Chef, Scott Liskiewicz!
Scott has been a key member of our Kalamazoo team for over three and a half years. Among his many skills, Scott brings warmth, compassion, dedication, and a genuine interest in each of the people he comes in contact with every day. He has an uncanny ability to make people feel valued, and is known for saying 'goodbye' to everyone in the restaurant before he leaves (even if it takes him quite a while to do so). His positivity, work-ethic, and passion for food and people are infectious, allowing his 'Zest for Life' to shine both in and out of the restaurant.
We asked him a few questions about the culinary space and his journey with Maru so far, here's what he had to say:
Q: What has been your most rewarding experience with Maru? Most challenging?
The most rewarding experience has been the opportunity to showcase the skills I have, while also being given the resources to learn new ones. Maru has provided a wonderful environment for my individual growth, both professionally and personally, and has introduced me to some magnificent people that have been incredibly rewarding to work alongside. My coworkers make it a joy to come to work and I'm thankful for every one of them. They have taught me a lot about myself, and aided me in my career path. Even though I'm challenged on a daily basis to learn something new, face a new situation, or make a tough decision, all of those things help me improve as a team member and as a person. For that, I am incredibly grateful.
Q: What is your philosophy on food?
Venture out of your comfort zone and learn to create dishes that you've never eaten. Then create it, and eat it. You gain appreciation for different kinds of food when you see the processes behind their creation. Remember that you are preparing food for others, not everyone has the same tastes that you do. Certainly let your own creativity show when permitted, but be open minded to the particular culinary preferences of others. Finally, take pride in every dish you prepare. Never let something go out to a guest that doesn't meet your own high standards. That dish is a reflection of you - be proud of it, and be confident that others will appreciate the time and care you put into preparing it.
Q: What do you think is the most important thing for an Executive Chef to learn?
Time management is a skill that any executive chef must have or develop. I don't consider myself an expert at it, however, I have improved significantly over time. Organization and ability to multitask are also crucial to this role - I'm still getting better at both, everyday. You have to know how to get the most out of people, use everyone's individual strengths to best help the team - while helping your team members to continue to develop in areas in which they still have room for growth. In my opinion, it's really important to understand different personality types, skill levels, backgrounds and talents, and to have them positioned in the correct seats. If that is accomplished, then everyone is on the path to success. Finally, and most important to me, always stay humble. You will only be as successful as those around you. My accomplishments, successes, progress, and professional joy is not mine - it is a culmination of the efforts of all the wonderful people around me.
Q: As an Executive Chef, what advice do you have for someone just starting their culinary career?
Observe and learn as much as you can, and let your career develop naturally. You are forever a student, there is so much to learn. Don't jump into things too quickly and get overwhelmed and don't be afraid to try out different areas of the culinary world, there are so many paths you can take. I never specifically sought out a career in Japanese cuisine, but it has turned out to be the most rewarding and fulfilling position I've held. In life, you never know what opportunities may present themselves, the most unexpected one may take you right where you need to be. Be grateful for where you are in life, both professionally and personally, and truly enjoy it. Gratitude for what you have in life will translate to success in your professional career.
Q: Who is your professional/culinary role model?
Easy - my mom. She has been a pro in the kitchen for as long as I can remember, and still is. She can create a different menu for each day of the week, and prepare it all herself. I can't think of a single dish that she can't make. Although, her specialty is certainly Polish food. We're a Polish family and I grew up eating it often. Twice a year, my family makes our own Polish sausage from scratch - grinding, seasoning the meat, and stuffing it. The recipe and process has been passed down through my mom's side of the family. Add my mom's homemade sauerkraut and it's my all time favorite meal.
Q: What are your some of your favorite hobbies + activities outside of work?
Outside of work I like to play tennis, work on jigsaw puzzles, visit family, go to musical theater shows, and spend as much time as possible with my cat companion (and best friend), Rudy. Whatever I do, I'm always trying to help people around me see the joy in their lives!
Q: What is your favorite dish on the menu?
Definitely the Beef Tenderloin Hibachi!
Thank you for all that you do, Scott - we appreciate the unwavering passion you have for your work and positivity you bring to our team! Say hello next time you stop by Maru Kalamazoo and enjoy one of his dishes, your tastebuds will be happy you did.
---
https://www.dignitymemorial.com/obituaries/east-lansing-mi/scott-liskiewicz-10799521