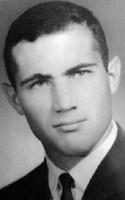 Robert Anthony "Tony" Brocci was the son of Fred P. (1905-1973) and Clara M. (Cecchi) (1910-1991) Brocci. Tony's father was born in Sant Arcangelo, Italy and immigrated as a young man to the United States. Tony was a 1957 graduate of Okemos High School. He furthered his education at Michigan State University attaining his BS and MS degrees. He wed Ann Dale Spencer in 1963. They later divorced. Tony died in April 2015 New York.
Lansing State Journal (Lansing, Michigan) Sunday 26 July 1953
Ted Warner, age 12, played Indian Hills with two of his pals, Bill Woolsey, 13, and Tony Brocci, 14, one day last week, and what did all three of them do but sink their approaches on the second hole. It was the eighth time Ted has sunk an approach this season.
Published in The Daily Gazette Co., Schenectady, New York. on Oct. 21, 2015
In April, the world quietly lost a quiet and selfless man. Tony Brocci battled six days in Ellis Hospital, before finally succumbing to a catastrophic stroke. The first American-born son of his Italian-born parents, Tony Brocci was a top student and All-Star athlete in football, baseball, basketball and track at his high school in Okemos, Michigan. Tony also made the Michigan State Football team as a "walk-on". With stops at Michigan State, R.P.I. and Illinois, Tony earned both his BS and MS in Engineering at Michigan State, and completed everything but his thesis for his Ph.D. in Theoretical and Applied Mechanics at U. Illinois. Tony's incredibly long and productive career as an Engineer took him from Knolls Atomic Power Lab to Alstom Air-Preheater, to G.E.'s Power Systems and R & D Center, and finally back to Knolls. Tony Brocci enjoyed working on numerous Elfun volunteer projects throughout Schenectady, and regularly helping at Schenectady's City Mission. Any memorial contributions in Tony's uname may kindly be made to the City Mission of Schenectady. Tony Brocci loved Ricky Nelson and The Kingston Trio, and preferred the small, quiet satisfaction of being with dear friends and family. Tony leaves behind his only brother, John Brocci (w/wife Shelley) in Michigan; a niece, Gina Clark (w/husband Doug & their children); and a nephew, Fred Brocci (w/wife Nadine & their children), also of Michigan. Tony Brocci is also survived by his three sons, Michael Brocci (w/daughters, Alice & Eowyn) of Albany, NY, Chris Brocci of Burnsville, North Carolina and Andrew Brocci (w/wife Denise & their sons, Ryan, David & Alec) of Guilderland, NY. And Tony leaves behind his loving and constant companion of 32 years, Julia Kinloch, of Guilderland, NY. Tony Brocci always did for others before he'd do for himself; he always put the feelings and needs of others before his own. Tony had the kindest heart. And he will be missed forever more.