Maxwell Albert "Max" Creaser, son of Maxwell A. (1907-1858) and Leola M. (Rawlings) (1916-2003) Creaser, was born 26 November 1937 Alma, Gratiot County, Michigan. He graduated in 1957 from Okemos High School.
Max was an outstanding athlete in school. He played end on the OHS football team and was crowned King of the Homecoming Court during the October 1956 Okemos-Williamston football game. Connie Lee Emery was crowned Queen. Beside his name in the 1957 Tomahawk yearbook reads: To judge a person you must known him well." Max died 24 June 1997 Michigan.

Lansing State Journal (Lansing, Michigan) Thursday 14 February 1957
INGHAM COUNTY
TEAM RECORDS
INDIVIDUAL RECORDS
Most points in one game - 55 by Max Creaser (Okemos) against Fowlerville
Most field goals in one game - 20 by Max Creaser (Okemos) against Fowlerville
Most free throws in one game - 15 by Max Creaser (Okemos) against Fowlerville
Lansing State Journal (Lansing, Michigan) Thursday 21 February 1980
When Max Creaser reported for work Wednesday morning in The State Journal's classified advertising department, he received a round of applause.
Naturally he was caught by surprise.
He wasn't promoted, he didn't get a raise, his wife hadn't given birth and for a few minutes, there was a total blank look on his face.
What happened was that Creaser's fellow workers learned Tuesday night that a young man by the name of Mike Witherill had shattered the Okemos High School single-game scoring record when he poured in 57 points at Mason. Creaser has never met Witherill and he hasn't seen him play.
It was 23 years ago that Creaser set the Okemos mark with 55 points in an Ingham County League game against Fowlerville. Creaser's coach was Bob Baker and Okemos played its games in the old gym at the intersection of Okemos Road and Mt. Hope.
Creaser was rather proud of that performance, and well he should be. Even after his high school days were over and he was playing recreation ball, people hadn't forgotten his accomplishment.
So, Wednesday morning he found out that Witherill erased his record.
"I am very happy for him," Creaser said. "I think I'll send a wire to the school and offer my congratulations to the young man. I've heard a lot about him and I know what a tremendous feeling he must have had. I feel good to know the record stood for 23 years and it's something I'll always remember and Mike will, too."
Creaser recalled the night he etched his name into Chieftain cage "hall of fame."
"Back in those days the one-hand jump shot was popular and it was a favorite of mine," he said.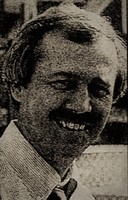 "But the night I scored 55 points I got a lot of baskets on driving layups, too."
Lansing State Journal (Lansing, Michigan) Wednesday 25 June 1997
CREASER, MAXWELL A.
Born November 26, 1937, in Alma; died after a prolonged battle with cancer on June 24, 1997, at the ge of 59. Max touched the lives of many people and will be sadly missed by all. He retired April 3, 1992, after working for 24 years in the Lansing State Journal's Classified Department. He was preceded in death by his father, Maxwell Creaser. Surviving are his caring wife, Sue Ann Creaser; daughter, Karen Creaser; mother, Leola Jones; sisters, Sandra (Jim ) Hudson, Vickie Garfield; brother, Rick Creaser.