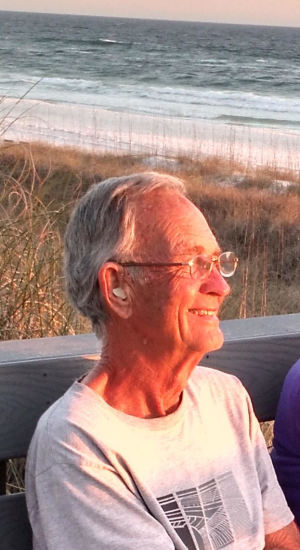 Joseph Cooley "Joe" Ferrar, son of Joseph C. (1911-1999) and Barbara M. (McAlvay) (1915-2001) Ferrar, was born 10 December 1939, East Lansing, Ingham County, Michigan. He graduated class valedictorian in 1957 from Okemos High School and went on to have a stellar career in teaching at Ohio State University. Joe played football in high school
Lansing State Journal (Lansing, Michigan) Sunday 16 June 1961
SARA REED SPEAKS VOWS TO JOSEPH C. FERRAR
White majestics and gladioli decorated the Alumni Memorial chapel Saturday as Miss Sara Jo reed spoke her wedding vows to Joseph C. Ferrar, son of Mr. and Mrs. Joseph C. Ferrar, 1803 Hamilton rd., Okemos.
Sara Jo, who is the daughter of Mr. and Mrs. H. Owen Reed of 4690 Ottawa dr., Okemos, chose a waltz-length gown of silk organza for her wedding, fashioned with a bodice of lace and brief lace sleeves.
Her veiling of French illusion was held in place by a small pearl crown, and her bouquet of white carnations was scattered with daisies.
Three bridal attendants, all wearing dresses of pale aqua nylon chiffon, carried baskets of daisies. Maid of honor was Miss Charlotte Fritch of Ypsilanti, and serving as bridesmaids were Miss Carol Reed, sister of the bride, and Miss Nancy Ferrar, sister of the bridegroom.
Blue was the color chosen by both mothers for the wedding. Mrs. Reed's dress was a pale blue silk and Mrs. Ferrar's was a silk flowered sheath of blue topped by a blue silk coat.
Carl Ferrar was best man for his brother, and ushering were Jack Weiss, John Bratzler and Forest Kenworthy.
For their honeymoon trip, the newlyweds selected the Pocono mountains of Pennsylvania.
Joe who has completed two terms of graduate work at Michigan State University, will work for RCA in Moorestown, N. J., this summer.
In the fall, the couple will reside in New Haven, Conn., where Joe will continue his graduate studies in mathematics at Yale university and Sara Jo will complete her final year at Albertus Magnus college in New Haven.
Joe married Sarah Jo Reed, an OHS 1958 alumni, on 17 June 1961, East Lansing. The couple celebrated 56 years and 4 children together before Joe's death 16 May 2018, Columbus, Franklin County, Ohio.
Obituary from Shaw-Davis Funeral Homes, Columbus, Ohio
Joseph Cooley Ferrar of Worthington Ohio, died of metastatic melanoma on May 16, 2018, at the Kobacker House, a Columbus hospice facility. Joe was born December 10, 1939, in East Lansing, Michigan, to Joseph and Barbara Ferrar. He married Sara Jo Ferrar, née Reed, his high school sweetheart, in 1961.
Joe graduated from Michigan State University and earned his Ph.D. in Mathematics at Yale University, specializing in non-associative algebra. After graduate school, he became a professor of Mathematics at The Ohio State University. In his forty year teaching career, he took a four year term as chairman of the department, served as Associate Dean and moved his entire family to Holland three times for year-long sabbaticals. Joe earned several teaching awards, including OSU's Distinguished Teaching Award. He loved teaching and continued to teach for eight years after his retirement in 2002.
Joe was a good tennis player, famous for hitting slice and "junk" shots that had his opponents pounding the ground at their inability to return "such an easy shot". He loved his math department tennis group and playing mixed doubles with Sara as his partner.
Joe loved music, especially sacred choral music. He sang in the Worthington United Methodist church choir for many years, always saying that he wasn't any good compared to the real tenors there. When Joe and Sara started going to Sunnyside, Florida every year for three months, Joe joined the Gulfview United Methodist church choir. At Christmas, the whole family would sing carols around the piano until the grandchildren begged them to stop.
For the last decade, Joe built houses for Habitat for Humanity, assisting in the construction of at least thirteen houses. He took great pride in his work there. He loved his team of "the guys" almost as much as the doughnuts.
An intensely frugal man, Joe drove miles out of his way for a few cents discount on gas, drove cars decades old, and wore clothes that even Goodwill didn't want. For years, he was famous for riding his old bike down High Street to Ohio State.
Joe could often be found puttering around his giant garden in the backyard. His garden was varied, and he fed his family with foods they loved like strawberries, tomatoes, and corn, and foods they hated like chard and chard. His many attempts to plant fruit trees were sometimes successful. Another of Joe's favorite outdoor activities was fishing or just paddling around in his fish-n-float.
Joe and Sara were married for 56 years. They shared a love for travel, camping, bridge, tennis, square dancing, beaches, and Ohio State football. They were united in all they did and their love is an inspiration to their children.
Joe's four children moved to four time zones: California, Texas, Colorado, and Georgia. Nevertheless, they all travelled at least once a year, with his nine grandchildren in tow, to the annual Ferrar Family Vacation or to Worthington for a Christmas visit.
Strong and healthy until the end, Joe was playing tennis and building houses a month before his death. The cancer came on quickly and unexpectedly, but gave him the perfect amount of time to say goodbye to all his loved ones, to hear their love and goodbyes in return, and to pass quietly, in comfort, surrounded by family.
He is survived by his beloved wife Sara, his brother Carl (wife Judy), his sister Nancy (husband John), and his children Joey (husband Greg, children Kevin, Kyle, and Keith), Julie (husband Bob, child Matthew), Cheryl (husband David, children Ryan, Kelly, and Caitlin), and Greg (partner Kari Lynn, children River and Arden).
In lieu of a funeral service, the family will hold a picnic, 6 pm – 9 pm on June 30, 2018, at Antrim Park. Updates will be posted to www.caringbridge.org under the pseudonym "Joe Cool" (his middle name is "Cooley").
The stellar life of an Okemos Distinguished Alumni