James Michael "Jim" Kreider, son of Michael C. (1910-1993) and Alice E. (Beers) (1910-1994) Kreider, was born 11 February 1939, Columbus, Ohio. He graduated in 1957 from Okemos High School where he was a top athlete. Jim graduated from Albion College and furthered his education at U of M. He had a long teaching career in New York state. He married, 2 February 1962, Georgia Kaye Black and they had 2 children. Jim died 27 April 1997 New York.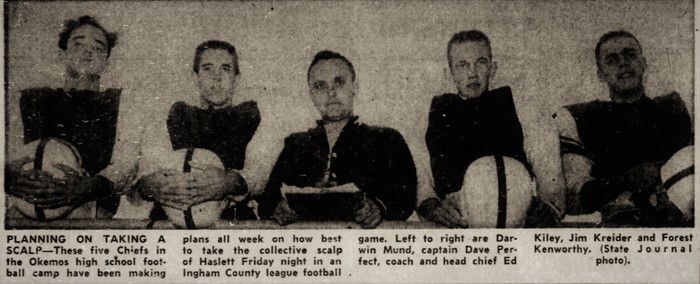 Lansing State Journal (Lansing, Michigan) Wednesday 30 April 1997
KREIDER, JAMES M.
BUFFALO, NY
FORMERLY OF OKEMOS
James Michael Kreider died April 27,1997. Jim was born in Columbus, OH, February 11, 1939 to Michael and Alice B. Kreider. He graduated from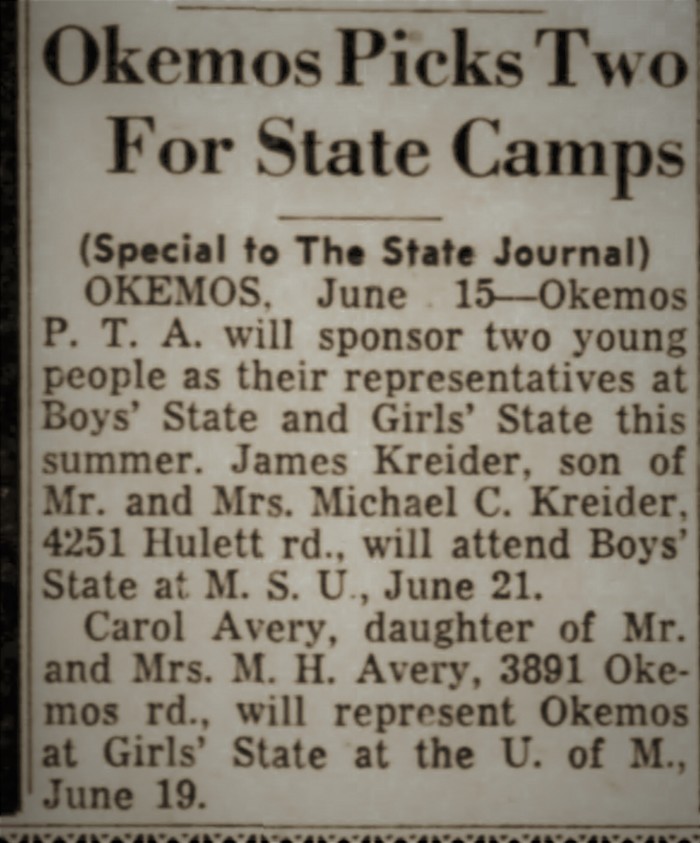 Okemos High School in 1957, where he excelled in academics and athletics. Jim received his BA degree from Albion College in 1961, was a member of the Phi Beta Kappa honor society and was a captain of the football and tack squads. He taught history and coached football and track at Belleville High School before he went on to earn a Ph.D. in the field of special education at the University of Michigan in 1969. Jim married his college sweetheart, Georgia Kaye Black of Jackson, MI, on February 2, 1962. He joined the faculty at Buffalo State College in Buffalo, NY, in August 1969 where he was an exceptional professor in special education for 27 years before retiring in 1996. Jim loved tennis, fishing and vacationing with family and friends and was a gifted entertainer and singer at social gatherings and family reunions. His death leaves a giant void in the lives of those who loved him. He will be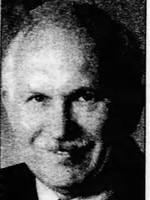 remembered for his wit and wisdom. He knew how to engage others and draw out their best qualities. He was a passionate and devoted father, husband, brother, uncle, friend and teacher. Surviving are his beloved wife, Kaye; his children, daughter, Andrea and Patrick Mitchell of Newark, DE and son Michael and Annica Kreider of Birmingham, AL; brother, Jon and Nancy Kreider of DeWitt, MI; sisters, Jeanette Kreider of Markham, IL, and Janice Kreider and her husband, Steve St. Louis of Williamston, MI; and a host of grieving nieces and nephews. Memorial services will be held Friday, May 2, 11:30 a.m. at the Okemos Community Church, 4734 Okemos Rd., Okemos, with the Rev. David S. Evans, Pastor Emeritus, officiating.
Jim's wife Georgia Kaye Black was born 11 January 1941. She died 25 October 1999 Jackson, Jackson County, Michigan. Jim and Kaye were interred Lincoln-Pomeroy Cemetery, Tompkins, Jackson County.
Lansing State Journal (Lansing, Michigan) Thursday 28 October 1999
KREIDER, GEORGIA KAYE (BLACK)
FORMERLY OF OKEMOS
Age 58, born in Lansing, MI on January 11, 1941; died Monday, October 25, 1999 at home in Jackson, MI. It was there that she had been cared for over the past 14 months by her niece, Bethany (Rob) Chenoweth and a team of loving caregivers led by Peg Exposito. Kaye was married to James M. Kreider for 25 years. They lived in Buffalo, NY for 28 years until Jim's sudden death in April 1997. Kaye was the youngest of six children of William and Louisa Black. She lived in Okemos, MI for 10 years before moving to Jackson where she graduated from high school. Kaye attended Albion College, Albion, MI and graduated from the University of Michigan, Ann Arbor. She began her career by teaching first grade in Belleville, MI. After moving to Buffalo, she earned her master's degree in reading education from Buffalo State College. Her most recent position was as the Reading Specialist for Cloverbank Elementary School, Hamburg, NY. Kaye's outstanding teaching efforts were recognized during her many years teaching reading at the elementary level. She gained the admiration of administration and staff for her highly successful mentoring of new teachers. Her devotion to her students and love of literature were a trademark. Peers respected Kaye's sensitivity, hard work, honesty and reliability. She was an inspiration to those who know her. She was a devoted mother and grandma, and a caring aunt of her 26 nieces and nephews. Kaye is survived by her daughter, Andrea (Patrick) Mitchell of Bear, DE; son Michael (Annica) Kreider of Mobile, AL; grandchildren, Joey Mitchell and Mary Catherine Kreider; sisters, Ada (Ralph) Mead, Jean (Lenneth) Britt, Margaret (Wayne) Musbach; and brother William Mackie (Karen) Black. She was predeceased by her parents, step-father, Jacob Lange and sister and brother-in-law, Mary Lou and Richard Ramsey. Kaye battled amyotrophic lateral sclerosis (ALS) with courage and determination. She was loved by many and will be greatly missed. A memorial service will be held Friday, October 29, 1999 at Calvary United Methodist Church, 925 Backus St., Jackson, MI with Rev. Dr. Michael Conklin and the Rev. Larry Nichols presiding.