Former federal judge Robert Holmes Bell dies at 79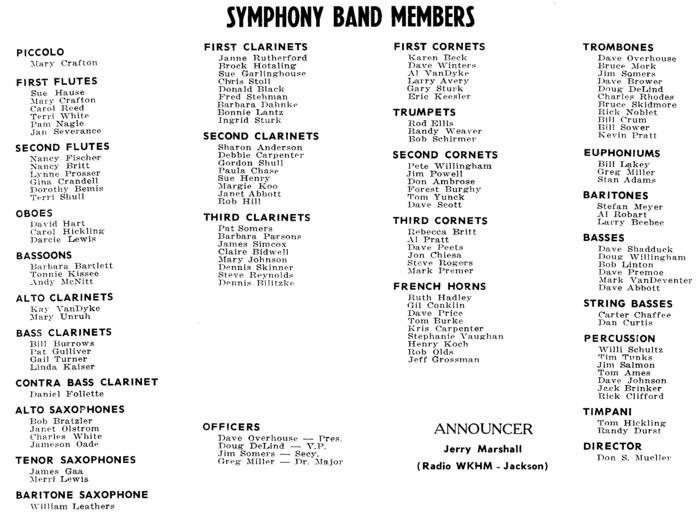 Associated Press
Published 10:09 a.m. ET June 11, 2023
Robert Holmes Bell, a federal judge for 30 years whose trials included one that led to a rare death sentence in Michigan, has died. He was 79.
Bell died Thursday, Michelle Benham, the court's chief deputy clerk, said Friday. A cause was not disclosed.
He was "one of the giants" on the federal bench, said Chris Yates, a judge on the state appeals court who often appeared in Bell's courtroom as a defense lawyer.
Bell was a judge in the Lansing area when President Ronald Reagan in 1987 appointed him to the U.S. District Court in western Michigan, based in Grand Rapids. He retired in 2017.
Bell presided over many significant cases, but none was bigger than the 2002 trial of Marvin Gabrion, who was convicted of drowning a woman in a remote lake in a national forest in Newaygo County.
Michigan outlawed the death penalty in 1847, but it is available under federal law. Federal prosecutors had the ability to charge Gabrion because Rachel Timmerman's murder occurred on government property. The U.S. Justice Department at that time told prosecutors to ask jurors for the death sentence.
The jury unanimously agreed, and Bell ordered it.
Gabrion remains on death row 21 years later while lawyers pursue appeals. He could be an intimidating figure in Bell's courtroom and even slugged one of his attorneys in the jaw in front of the jury.
Bell said Gabrion could wear a menacing look.
"He tried that on me," Bell told WOOD-TV in 2016. "I just looked right back at him, and then I said, on the record, 'The record should reflect Mr. Gabrion is staring at me and has stared at me for the last two hours, and it's having no effect whatever upon me.'"
Bell took pride in personally giving encouragement to people who had returned home from prison.
"Usually, I'll say to their mother, 'What does your son need? What does your grandson need?'" Bell told The Grand Rapids Press. "I usually spend 10 minutes trying to engage them and tell them I care. They can't believe it."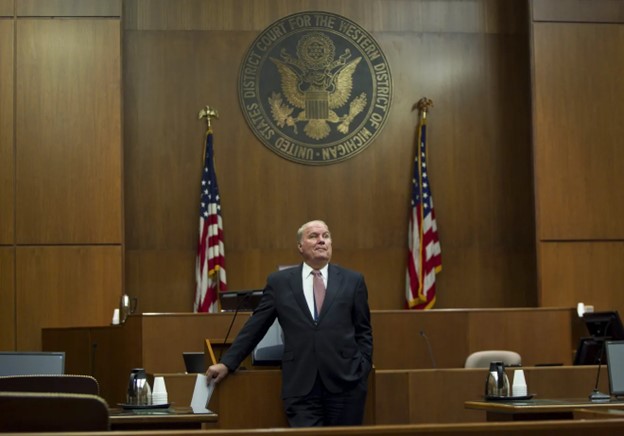 Judge Robert Holmes Bell is pictured inside his courtroom in downtown Grand Rapids on Tuesday, October 25, 2016. Cory Morse, The Grand Rapids Press Via A U.S. District ssociated Press
(The following biography was directly copied from Wikipedia, the free encyclopedia)
Robert Holmes Bell (April 19, 1944 – June 8, 2023) was a United States district judge of the United States District Court for the Western District of Michigan.
Education and career
Bell received a Bachelor of Arts degree from Wheaton College in 1966.[1] At Wheaton, Bell lettered in track each year.[2] Bell received his Juris Doctor from Wayne State University Law School in 1969.[1] He was an assistant county prosecuting attorney for Ingham County, Michigan from 1969 to 1973 and then became a judge, first on the Ingham District Court in Mason, Michigan from 1973 to 1979, and then on the Ingham County Circuit Court in Lansing from 1979 to 1987.[1]
Federal judicial service
On March 11, 1987, Bell was nominated by President Ronald Reagan to a seat on the United States District Court for the Western District of Michigan vacated by Judge Wendell Alverson Miles.[1] Bell was confirmed by the United States Senate on July 1, 1987, and received his commission the following day.[1] He served as Chief Judge from 2001 to 2008.[1] He assumed senior status on January 31, 2017.[1]
Chief Justice John Roberts appointed Bell to serve as chairman of the criminal law committee of the Judicial Conference of the United States. In that post, Bell wrote a letter to the Senate Judiciary Committee in 2013 opposing mandatory minimum sentences, saying they produce "unjust results" and waste public funds.[2][3][4]
One notable case during Bell's federal judicial service was the 2002 trial of Marvin Gabrion, where Bell ordered a death sentence for Gabrion after the U.S. Justice Department told prosecutors to ask jurors for the death sentence, in which the jurors agreed for it.[5] Gabrion remains on death row as of 2023.[5]
Bell also took actions on protecting Lake Michigan sand dunes, supervising the cleanup of the Kalamazoo River, and dismantling Holland, Michigan's street gang Latin Kings.[6]
Personal life
Born in Lansing, Michigan, on April 19, 1944, to Preston and Eileen (née Holmes), Bell was raised in nearby Williamston and graduated from Okemos High School in 1962.[7] His father died of war-related illness, lymphoma, when he was eight years old.[7][2]
Bell met his wife, Helen, while both were students at Wheaton. They had three children. Their son, Rob Bell, is the founding pastor of the Mars Hill Bible Church megachurch.[2] Bell taught at a sunday school in upper Michigan.[8]
Bell died in East Grand Rapids, Michigan on June 8, 2023, at the age of 79.
Notes
1. Robert Holmes Bell at the Biographical Directory of Federal Judges, a public domain publication of the Federal Judicial Center.
2. Agar, John (February 13, 2011). "Profile: U.S. District Court Judge Robert Holmes Bell". MLive.
3. Associated Press, West Michigan federal judge knocks mandatory minimum sentences (September 21, 2013).
4. Ellison, Garret (September 22, 2013). "Mandatory minimum sentences waste money, have 'unjust results,' says Grand Rapids federal judge". MLive.
5. "Former federal judge Robert Holmes Bell dies at 79". Detroit Free Press. Retrieved 2023-06-10.
6. Agar, John (2016-11-20). "Retiring federal judge reflects on death penalty, Latin Kings, place in history". mlive. Retrieved 2023-06-10.
7. Chardavoyne, David G.; Brenneman, Hugh W., Jr (6 October 2020). A Lincoln Legacy: The History of the U.S. District Court for the Western District of Michigan. Wayne State University Press. ISBN 978-0-8143-4805-5.
8. "Obituaries in Lansing, MI — Robert Holmes Bell, Sr". Lansing State Journal. 2023-06-09.
9. White, Ed (June 9, 2023). "Federal judge who presided over rare Michigan death penalty trial dies at 79". AP NEWS. Retrieved June 9, 2023.
/000/4/8/8/29884/userfiles/image/1962/Bell%2CRobert%201962/bell%2Crobert%201962%20lsj%206-11-23b.jpg <click this link for additionsl article>