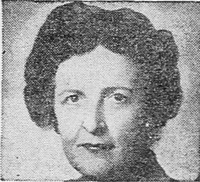 Ruth Alice Wilson, daughter of l. Earl (1893-1967) and Jewell (McKim) (1894-1969) Wilson, was born 17 February 1923 Michigan. Ruth graduated in 1941 from Okemos High School where among close friends she was known as "Shish". She never married and had a long employment career with Sears Roebuck and Company. Many advertisements Sears published in the Lansing State Journal directed towards women's fashion toted Miss Ruth Wilson, "Sears Famous Graduate Corsetier - She Will Reveal Your True Figure Type! Help You To New Fashion Beauty and Comfort!" Ads such as this ran in the 1940's through the 1960's with Ruth Wilson's photograph.
Ruth's parents were interred Glendale Cemetery, Okemos and Ruth has a headstone there also. Ruth, age 95, died 24 January 2019, Grand Traverse County, Michigan.
Ruth Alice Wilson
January 24, 2019
95, of Traverse City, died Thursday, Jan. 24, 2019.
Private family services will be held.
The family chose Life Story Funeral Home, 400 Hammond Road W., Traverse City.
Published on January 27, 2019 The Record Eagle
Thank you to John Coakes for notifying the Alumni Association of Ruth's passing.
https://obituaries.record-eagle.com/obituary/ruth-wilson-1072416284#guestbook