Charles Nathan "Nate" Green, son of Charles William (1882-1952) and Clara Eliza (Hersey) (1885-1964) Greene, was born 7 May 1921 Hart, Oceana County, Michigan. Charles was called "Nate" in school. He was a 1940 graduate of Okemos High School and married classmate Dorothea E. Brown 5 October 1940 East Lansing, Ingham County, Michigan.
Charles was drafted into the US Army in 1943. He served, with distinction, until honorable discharge in 1945.
Lansing State Journal (Lansing, Michigan) Tuesday 25 July 1944
RETURNS TO DUTY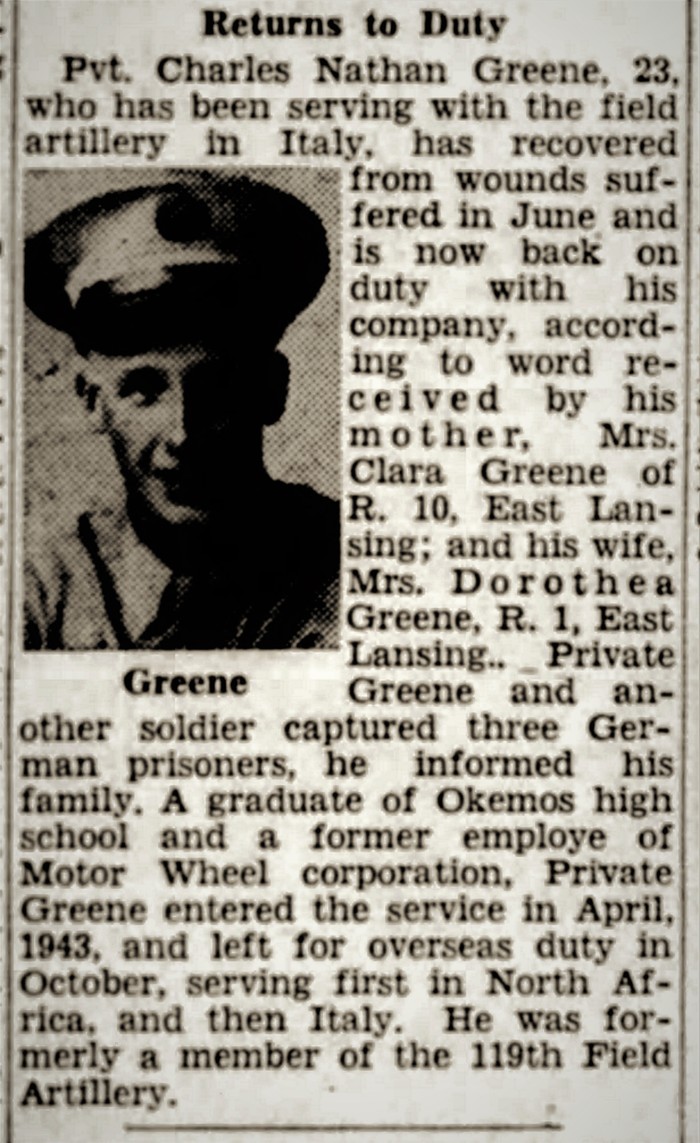 Pvt. Charles Nathan Green, 23, who has been serving with the field artillery in Italy, has recovered from wounds suffered in June and is now back on duty with his company, according to word received by his mother, Mrs. Clara Green of R. 10, East Lansing; and his wife, Mrs. Dorothea Greene, R. 1, East Lansing. Private Greene and another soldier captured three German prisoners, he informed his family. A graduated of Okemos high school and a former employee of Motor Wheel corporation, Private Greene entered the service in April, 1943, and left for overseas duty in October, serving first in North Africa, and then Italy. He was formerly a member of the 119th Field Artillery.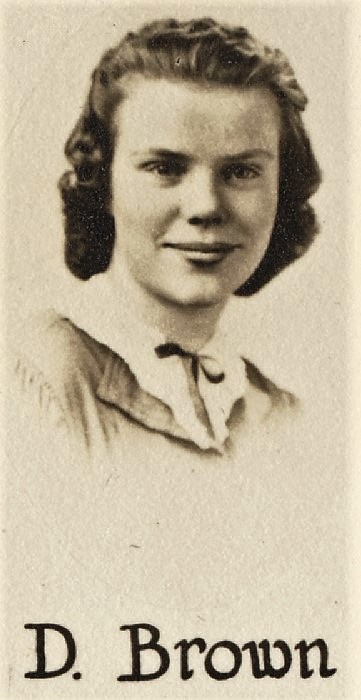 Dorothea, born 15 May 1922, died 27 April 2001. Charles died less than a month later, 11 May 2001. They were interred Leek Cemetery, Okemos.
Lansing State Journal (Lansing, Michigan) Sunday 13 May 2001
GREENE, CHARLES N.
PERRY
FORMERLY OF EAST LANSING
Age 80, died May 11, 2001, in Owosso. He was born May 7, 1921 in Hart, MI, the son of Charles William and Clara E. (Hersey) Greene. He was a 1940 graduate of Okemos High School. Charles N. and Dorothea E. Brown were united in marriage on October 5, 1940 in East Lansing. He served with the United States Army during World War II and was awarded the Purple Heart. He was employed by diamond Reo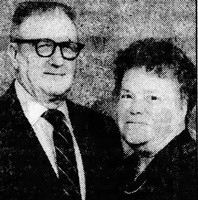 Corp. in Lansing. Later he was employed by Crane Carrier Corp. in Oklahoma. Charles enjoyed gardening, fishing and hunting. He was preceded in death recently by his wife of 60 years, Dorothea E. (Brown) on April 27, 2001 and 1 brother, Gerald. Surviving are their children, Judith K. (Keith) Hines of Waterford, MI, Janice E. (William) Nash of Owosso, MI, Randall B. Greene of Indianapolis, IN; three grandchildren, Jennifer and Kurt Haines, Jonathan Nash; sisters, Burdetta Leyrer of Lansing and Ione Bush (Deveane) of Springfield, OR. Funeral services will be held Tuesday, May 15, 2 p.m. at the Gorsline-Runciman Co. East Chapel, 1730 E. Grand River Avenue, East Lansing with the Rev. Kenneth L. Ridge, Pastor of Towar Hart Baptist Church of East Lansing, officiating. Interment will follow in Leek Cemetery, Mason.