Reprinted from the Pauline Lang scrapbook 1940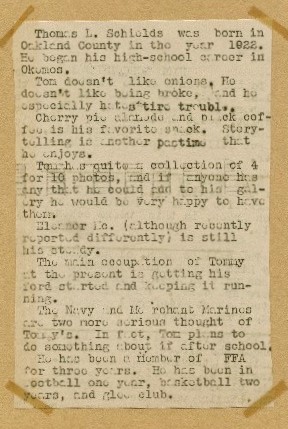 Thomas L. "Tom" Shields, son of Forest LaGrand (1898-1977) and Mildred (VanCamp) (1899-1924) Shields, was born 1922 Michigan. Tom lost his mother to meningitis when he was only two.
Lansing State Journal (Lansing, Michigan) Friday 13 June 1924
MRS. MILDRED SHIELDS
Mrs. Mildred VanCamp Shields, 24, a resident of Holly, died here Thursday night. Mrs. Van Camp (note surname mistake) was a member of the Methodist Episcopal church of Leslie.
Besides the husband, Forest Shields, she is survived by three children, Doris 5, Wayne 3, and Thomas 2; the parents and one brother.
The body is at the Jarvis-Estes funeral home where a short service will be held Saturday at 8:30 a.m. after which it will be taken to the home in Holly where funeral will be held Sunday.
Tom's father Forest remarried in 1925 but that marriage ended quickly in divorce. In 1928 Forest married Glenna Dell Knapp. Glenna (1908-1979) would be Tom's step-mother. The 1940 Alaiedon Township, Ingham County, Michigan US Federal Census enumerated Tom living with the Clyde R. Brown family. Census stated he had been in the household since 1935. Tom graduated from Okemos High School in 1940. After graduation he was employed by Fisher Body, Lansing. According to Army service records, Tom enlisted 2 October 1942.
Lansing State Journal (Lansing, Michigan) Sunday 29 October 1944
SHIELDS - Corp. Thomas L. Shields of Route 4, Mason, has been cited by his regiment of the 88th Infantry division, and awarded the combat infantry man's badge for actual participation in combat with the enemy on the Fifth army front in Italy.
Lansing State Journal (Lansing, Michigan) Monday 13 November 1944
MASON SOLDIER HAS UNIQUE DUAL ROLE
With The Fifth Army, Italy, Nov. 13 - Corp. Thomas Shields of Mason, Mich., chaplain's assistant in the 88th "Blue Devil" division, recently doubled as a mule skinner during the drive of Lieut. Gen. Mark W. Clark's army toward the Po valley in Italy.
Pack trains on this front travel five to ten miles every night along dangerous mountain trails bringing supplies, food and ammunition to doughboys on the frontlines.
"I volunteered when they needed more men on the slippery trails," Shields explained, "and made several trips until I was relieved by regular 'skinners.'"
He is the son of Mr. and Mrs. F. L. Shields who live near Lansing. His brother, Wayne, also is in the army.
Lansing State Journal (Lansing, Michigan) Friday 9 March 1945
CHAPLAIN'S AIDE KILLED IN ITALY

CORP. THOMAS L. SHIELDS, 22, OF R. 4, MASON, WAS WITH 'BLUE DEVIL' DIVISION
Corp. Thomas L. Shields, 22, of Route 4, Mason, who had been serving as chaplain's assistant in a service company of the 88th "Blue Devil" Infantry division of the Fifth army in Italy, was killed in action February 19, the war department advised his parents, Mr. and Mrs. F. L. Shields, Route 3, Lansing, in a telegram received this week. Corporal Shields had been overseas since November, 1943, and had seen combat in Naples and on the Anzio beachhead. He was with the first units to enter Rome. He held the combat infantryman's badge and good conduct medals. Graduating from Okemos high school in 1940 he was employed by Fisher Body corporation prior to entering the service October 19, 1943. He received his training at Camp Roberts, Cal, Camp Gruber, Okla., and Fort Sam Houston, Tex.
Surviving besides the parents are two brothers, Douglas and Wayne Shields, serving somewhere in Belgium and a sister, Mrs. L. C. Wickersham, 2501 Marion avenue. He was a member of the Elks lodge.
On 30 May 1945 The Lansing State Journal ran listings of area service men killed (KIA) or missing (MIA). The listing for Tom read: "Corp. Thomas L. Shields, 22, of Mason, lost his life in Italy on 9 March 1945 (this is incorrect according to Army service records which state death date as 19 February 1945). Son of Mr. and Mrs. F. L. Shields, of R. 2, Lansing, he graduated from Okemos high school and worked at the Fisher Body."
At the time of death Tom was a Tech 5th Class serving with the 351st Infantry Regiment 88th Division. He died 19 February 1945 and was Purple Heart recipient. Tom was interred Florence American Cemetery & Memorial, Florence, Citta Metropolitana di Firenze, Tuscana, Italy.