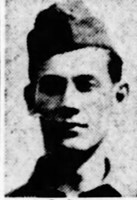 Leroy J. Lehman, son of Lawrence Joseph (1893-1961) and Bertha E. (Lang) (1888-1969) Lehman, was born 5 May 1915 Milwaukee County, Wisconsin. According to several articles from the Lansing State Journal newspaper, Lansing, Michigan, Leroy was a graduate of Okemos High School. His enlistment record only records 2 years of high school education. If Leroy graduated it was probably in the class of 1933.
Leroy worked for several years at Oldsmobile in Lansing. He enlisted in the US Army at Kalamazoo, Kalamazoo County, Michigan 28 April 1941. Leroy was described as 72" tall and weighing 156 pounds.
Lansing State Journal (Lansing, Michigan) Thursday 10 August 1944
LANSINGITE MISSING
The Lansing man reported as missing is Pvt. Leroy J. Lehman, 29, son of Mr. and Mrs. Lawrence Lehman, 1016 River street, who was serving with an infantry unit and has been overseas 27 months. He entered the service April 28, 1941 and received his training at Camp Livingston, La., and also in Australia.
He was a graduate of Okemos high school and later was employed at Oldsmobile Plant.
Lansing State Journal (Lansing, Michigan) Friday 1 September 1944
TWO NAMES ADDED TO WAR LIST DEAD SGT JAMES KAIN, 23, PVT. LEROY LEHMAN, 29, KILLED IN FRANCE, NEW GUINEA

Mr. and Mrs. Lawrence J. Lehman, 1016 River street, were informed Thursday, in a telegram from the war department, that their son, Pvt. Leroy J. Lehman, 29-year-old infantryman, who had been reported as missing in action, in New Guinea since July 22, was killed at that time. Private Lehman, who had been serving overseas for the past 27 months, was a graduate of Okemos high school and a former Oldsmobile employee before entering the service April 7, 1941. He received his training at Camp Livingston, La., and Fort Devons, Mss.
Surviving, besides his parents, are two brothers, Pvt. Gerald Lehman, serving with the air corps at Fort Monmouth, N. J., and Russell, living at home; three sisters, Bernita, Elvera, and Rose Mary; living at home; and a grandmother, Mrs. Catherine Lehman, 712 Sycamore street.
Leroy was assigned to the 127th Infantry and took part in The Battle of Driniumor River (also called The Battle of Aitape) 10 July - 25 August 1944 in Western New Guinea or specifically at Aitape, Sandaun Province, Papau New Guinea. Below Mr. Edward Drea wrote of the time period in which Pvt. Lehman lost his life.
US Army Center of Military History by Edward J. Drea
"That morning an infantry battalion on the north and a cavalry squadron on the south crossed the Driniumor (river) and probed cautiously eastward. The reconnaissance-in-force passed north and south of Eighteenth Army's main assembly areas which were from two to four miles inland from the coast. Only two infantry battalions and a cavalry squadron remained to defend the Driniumor line.
That night ten thousand howling Japanese troops burst across the shallow Driniumor and charged through the center of the badly outnumbered and undermanned covering force. GIs fired their machine guns and automatic rifles until the barrels turned red hot, but the Japanese, eerily visible under the light of flares, surged forward. American artillery fell in clusters on the Japanese infantrymen, killing and maiming hundreds or crushing others beneath the tall trees that snapped apart in the unceasing explosions. Japanese numbers proved irresistible. Their breakthrough precipitated a month-long battle of attrition in the New Guinea wilds.
GIs moved behind heavy artillery support to close off pockets of Japanese resistance. The jungle restricted movement so the hardest fighting fell to rifle squads or platoons. Infantrymen fought a disconnected series of vicious actions that appeared coherent only on headquarters' situation maps. Adachi's men asked no quarter and received none. During July and August 1944, nearly 10,000 Japanese perished. Almost 3,000 Americans fell along the Driniumor, 440 of them killed. In terms of American casualties, it was MacArthur's most costly campaign since Buna."
Lansing State Journal (Lansing, Michigan)Thursday 15 July 1948
WAR HERO'S BODY TO ARRIVE HERE
PVT. LEROY LEHMAN KILLED ON NEW GUINEA IN 1944
Word was received here Thursday by Mr. and Mrs. Lawrence J. Lehman of 1918 South Logan street, that the body of their son, Pvt. Leroy J. Lehman will arrive in Lansing Thursday at 6:38 p.m. at the Pere Marquette station from New Guinea where he was killed in action July 222, 1944 while serving with the 127th Infantry. Private Lehman attended Okemos high school and was employed at Oldsmobile from 1934 until he entered the service in April 1941.
Surviving, besides the parents, are two brothers, Gerald and Russell; three sisters, Mrs. Bernita Allen, Mrs. Elvera Smith and Miss Rosemary Lehman, all of Lansing.
Funeral services will be held Saturday at 10 a.m. at St. Casimir's church with Rev. Fr. Leo Kalinowski officiating. Burial will be in Little Arlington. Rosary will be recited Friday at 8:15 p.m. at the Palmer-Bush funeral home. The John C. Dust Camp No. 40, Spanish American War Veterans, will be in charge of the military honors.
Leroy was interred Evergreen Cemetery, Lansing, Ingham County under a military headstone reading, "PVT 127th Inf."