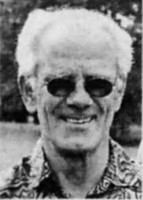 Lyle Edward Foster, son of Lyle E. (1918-1957) and Tessibel (Bement)(1918-1998) Foster, was born 9 November 1937 Ypsilanti, Washtenaw County, Michigan. Lyle attended Okemos High and was in the class of 1957. He quit school before graduation to help with family finances.
Lansing State Journal (Lansing, Michigan) Friday 20 September 1957
In the Williamston fatality, Policeman Elwood Casler said he was parked by the traffic light on US-16 in Williamston when the Foster car, pulling a two-wheel loaded trailer went by at what Casler described as excessive speed.
The officer chased Foster for about a half-mile and said he was about to turn on his flasher in an attempt to stop him when Foster pulled out to pass a car.
DRIVER LOST CONTROL
Casler said Foster swung into the extreme left-hand lane of the four-lane highway to pass the other car and then cut back sharply in front of the other vehicle.
Foster lost control of his car, Casler aid, and it jumped the curb, traveled about 20 feet, and wrapped around a tree.
Charles Foster, the dead man's five-year-old son, was thrown out of the car and found wandering dazedly nearby. He was taken to Edward W. Sparrow hospital in Lansing where he was in fair condition Friday morning.
Lyle Foster, Jr., 19, who had been to a movie, happened by just after the accident. He recognized the car and trailer and stopped to learn that his father was dead.
Surviving, beside the two sons, are: the widow, Tessibel; one other son, Norman; five daughters, Roberta, Nancy, Velma, Wendy and Anna; and his parents, Mr. and Mrs. Theron Foster of Ypsilanti.
Funeral arrangements were being made at Gorsline funeral home.
Lyle died 1 February 2011, also in an motor accident. He was interred Fairview Cemetery, Dansville, Ingham County, Michigan.
Lansing State Journal (Lansing, Michigan) Thursday 3 February 2011
DANSVILLE TRUSTEE DIES IN ACCIDENT
73-YEAR-OLD LOST CONTROL OF VEHICLE IN ICY ROAD CONDITIONS
Dansville - Lyle Foster died doing what he was known for - giving someone a helping hand.
The 73-year-old Dansville village trustee was on his way to help a friend stranded in Holland when he lost control of his vehicle on an icy road, said his wife, Cherie Foster.
"That's the kind of guy he was," she said. "He'd do anything for anybody."
Foster was driving westbound on M-6 in southern Kent County at about 3:17 p.m. Tuesday when he slid into a ditch, said Sgt. Karl Schmitz of the state police post in Grand Rapids. The pickup rolled several times. Foster died at the scene.