Mainord Monroe Weaver, son of Ross Mainord (1891-1960) and Sylvia Jane (Anderson) (1891-1988) Weaver, was born 11 December 1917, Burt Township, Kossuth County, Iowa. Mainord's first name was often misspelled as in the case of the 1951 Tomahawk year book where he was listed as "Mainard" Weaver.
After high school graduation in Indiana and 2 years of college education, Mainord enlisted 20 October 1941, Fort Benjamin Harrison, Marion County, Indiana, into the US Army. He later transferred into the Army Air Corp where he was trained as a combat glider pilot. Mainord, with the 1st Air Commando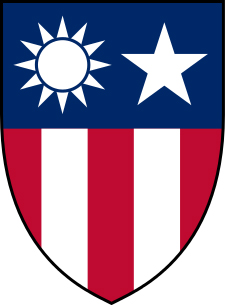 Group participated in the China-Burma-India (CBI) Theater during World War II. "The 1st Air Commando Group (initially the 5318th Provisional Unit (Air)) was a special Air Force unit initially developed for action in Burma to support the British Chindit expeditions into Burma. The Group was comprised of Douglas C-47s, CG-41 Waco gliders, Noorduyn C-64 Norseman cargo aircraft, Vultee L-1 liaison aircraft, Stinson L-5 Sentinels, the Sikorsky Helicopter, the YR-4, the first helicopter to be used under combat conditions, P-51A Mustangs for fighter cover and B-25 medium bombers. This unit first saw action in March 1944. The Group was under the joint command of Lt. Col. Philip G. Cochran, a fighter pilot from North Africa, and Lt. Colonel John R. Alison, formerly with the 23rd Fighter Group of the U. S. 14th Air Force in China." Quote taken from China-Burma-India Hump Pilots Association, Inc.
Honorably discharged, Mainord married Charlotte Rose O'Meara 18 December 1946, Fort Wayne, Allen County, Indiana. He graduated with a BS in secondary education and industrial arts in 1950 from Western Michigan College (now Western State University). Mainord in 1951 taught shop and coached at Okemos High School. Later he and Charlotte moved into the Kalamazoo County, Michigan area where he became a school principal.
Charlotte, born 17 February 1923, Indiana, died 21 April 1984, Kalamazoo County. Mainord died 25 December 2014, Kalamazoo County.
Kalamazoo Gazette 4 January 2015
Weaver, Mainord M. of Kalamazoo
Mainord , age 97, passed away peacefully on December 25, 2014 at Upjohn Community Care Center in Kalamazoo. He was born on December 11, 1917 in Iowa and lived the majority of his life in the Kalamazoo area. Mainord was a decorated WW II combat glider pilot, First Air Commando, CBI. He received his bachelors and masters degrees in Education from Western Michigan University on a track scholarship. Mainord was a beloved and proud Comstock Public Schools principal at East and North Elementary Schools. He was a private pilot, EAA member, who loved to construct planes, an avid reader, sports fan and a naturalist. His wife Charlotte, the love of his life, was also a beloved teacher at Comstock North Elementary School. She preceded Mainord in death. He is survived by their son, Steve (Margie) of Kalamazoo and two grandchildren. Also surviving are two sisters, Millie and Gladys; and two brothers, Harvey and Joe. Mainord was preceded in death by siblings, Elmer, Viola, Helen, Hazel, Ester Jane and Marilyn. Per his wishes, there will be no memorial ceremony and in lieu of flowers, memorial donations may be made to the Sierra Club Foundation. Arrangements by Langeland Family Funeral Homes