William Frederick "Fred" Dorn, son of Henry (1885-1962) and Martha (Frederick) (1892-1987) Dorn, was born 23 April 1917 Lansing, Ingham County, Michigan. He graduated in 1936 from Okemos High School. On 1 June 1940, Lansing, Ingham County, Fred married Eunice Marie Moldenhauer. Eunice was a 1938 graduate of Okemos High School.
Fred served in World War II in the US Army attaining rank of TSgt.

Eunice, born 15 October 1919 Haslett, Ingham County, died 26 November 2006, Polk County, Florida. Fred died 24 February 2008, Polk County. Both were interred Florida National Cemetery, Bushnell, Sumter County, Florida.
Lansing State Journal (Lansing, Michigan) Sunday 2 March 2008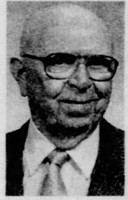 William F. "Fred" Dorn, Lake Wales, FL Age 90, died Sunday, February 24, 2008. He was in the care of Wedgewood of Winter Haven and Good Shepherd Hospice of Auburndale. Born April 23, 1917 in Lansing, Michigan, he moved 27 years ago to Polk County, FL from Okemos and Saranac, MI. He lived in Winter Haven and Lake Wales. He was a WWII veteran who served in the U.S. Army in Germany. Mr. Dorn retired in 1976 from Michigan Bell Telephone with 37 years' service. He was a member of Emanuel First Lutheran Church and Telephone Pioneers of America. He was preceded in death by his wife of 66 years, Eunice, and one brother Arthur Dorn, Dimondale MI. Survivors include daughter, Elaine M. (Gary) Preston, Okemos, MI; son, Duane F. (Jean) Dorn, Inverness, FL; sisters, Eleanore Osborne, Okemos, MI, Margaret "Peg" Tarpoff, Haslett, MI; brother, Robert Dorn, Houghton Lake, MI; grandchildren, Jeff (Julie) Preston, Hatboro, PA, Steve (Amanda) Preston, DeWitt, MI; and two great-grandchildren, Stephanie and Ryan Preston. Final inurnment will be at Florida National Cemetery, Bushnell, FL.