Ronald Edward "Ron" Wade, son of David E. (1884-1933) and Jessie Fremont (Landon) (1870-1941) Wade, was the twin brother of Donald David Wade. The twins were born 18 January 1912, probably in Ann Arbor Washtenaw County, Michigan and both attended Okemos Schools. According to Don's 1942 Army enlistment record, he only had a grammar school education. No high school years were listed although he would have graduated in 1929. Ron too may not have completed all 4 years of high school.
Ron, unlike his brother, did not serve in the military during WWII. He moved out to Arizona during the 1930's and worked as a laborer. In 1939 he married Elaine Margaret Werner and the couple later would have 3 children. The 1940 United States Census for Cass County, Michigan located Ron and Margaret living within the county but no employment was listed for either one.
Ron and Elaine were divorced in the late 1950's. Ron would afterward marry, in California, 27 December 1973, Belle M. Callahan. Ron and Belle lived in Tucson with Ron employed as a high school custodian and maintenance man and Belle in retail sales for the rest of their lives.
Ron died 23 November 1995, Tucson. Belle, born 16 December 1916, died 27 December 2002, Tucson. Ron was interred Binghampton Cemetery, Tucson, Pima County. Belle's interment is unknown.

Tucson Citizen (Tucson, AZ) Monday 27 November 1995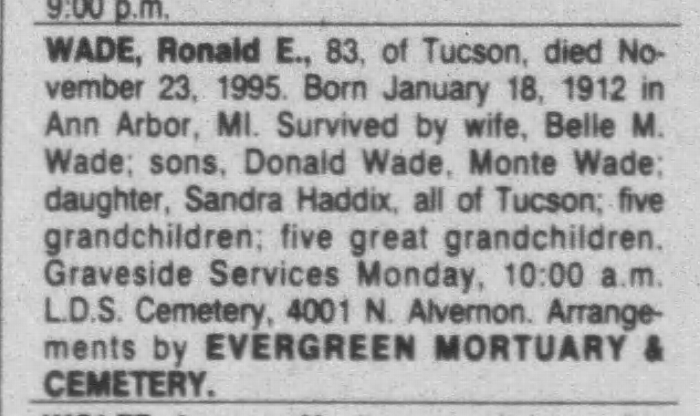 Tucson Citizen (Tucson, AZ) Monday 25 November 1995