Edna Mae McClure, daughter of Edgar David (1883-1946) and Mabel E. (1884-1959) (Standish) McClure, was born 17 August 1906, Wheatfield Township, Ingham County, Michigan. Edna's father had a large farm operation in Meridian Township and held the position of Township Supervisor in 1917. Unfortunately the McClure's lost their farm land to foreclosure during in the 1929 downturn in economics. The family left Michigan in 1930 and relocated to Windsor, Broome County, New York, where they started over.
Edna, one of 8 or 9 children, graduated from Okemos School in 1926. She must have received higher education within the state because Edna was enumerated in the 1930 US Federal Census in Pontiac, Pontiac County, Michigan living with the Joseph and Ida Rosenthal family and listed as a public school teacher.
Nothing further is known about Edna. She was interred in 1938, precise date unknown, in Knox Cemetery, Broome County, New York. It is not known if she died in Michigan or possibly New York State.
Edna never knew that her younger brother Robert became a B-17 flight crew member during World War II. On a 1942 raid over Rabaul, New Guinea his B-17 was lost and he was listed as MIA. Robert's remains were never recovered and the elder Mr. McClure's heart attack death was later attributed to the final 1946 news from the State Department that all hope of Robert's recovery was lost and he was declared dead.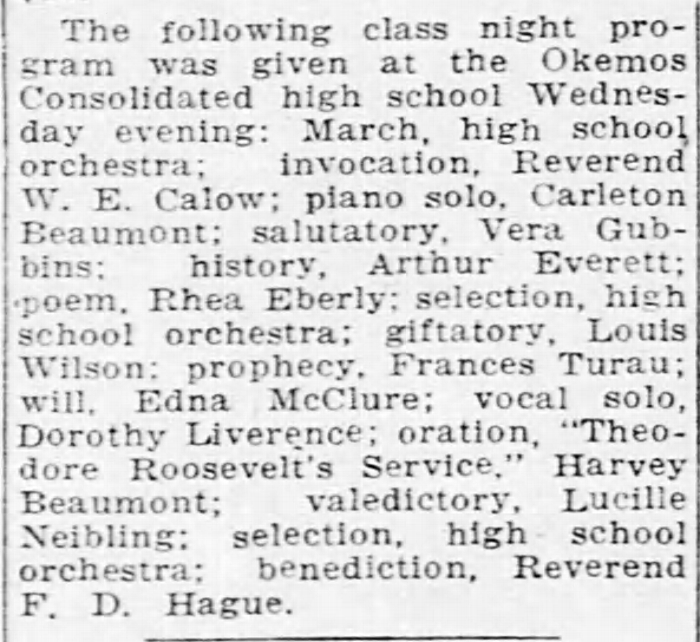 Lansing State Journal (Lansing, Michigan) Friday 30 May 1924