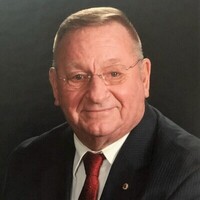 David Arthur Bennett
class of 1959
(attended Okemos Schools, graduating from East Lansing High School in1959)
January 26, 1941 - February 18, 2021
David Arthur Bennett, 80, died February 18, 2021, with his family by his side.
David was born January 26, 1941 in Lansing, Michigan to F. Raymond and Ellen (Nott) Bennett . He graduated from East Lansing High School in 1959. David served in the U.S. Navy HS-5 Helicopter Squadron from 1961-1963 and was part of the mission that picked up astronauts Alan B. Shepard and John Glenn. He worked for General Motors for 35 years.
He is survived by his loving wife of 55 years, Linda; daughter Amy (Marcus) Burnett; son Kurt (Rachel) Bennett; and grandchildren: Rachel, Mason, Addison, Annalise, Jacob, Lucas and Mallory. He was preceded in death by his parents and his sisters Christine Conlin and Marilyn Thornton.
David enjoyed being of service to others. He was a very active member of the Holt Lions Club since 1968. He served in many leadership roles with the Lions, including District Governor (1991-1992) and President of the Lions Foundation (1997). He was part of 10 eyeglass mission trips with the Lions to Peru, Honduras, and Latvia. He was President of Welcome Home for the Blind (1997) and President of the Methodist Children's Home Society (2016-2020). He was also a very active member of Okemos Community Church and sang in their choir for 60 years.
Family was always the most important thing to David. He enjoyed spending time with his wife, children and grandchildren.
There will be a graveside service on Tuesday, February 23 at East Lawn Memory Gardens in Okemos at 1:00 p.m. David wanted his funeral at his church and the family will hold a memorial service in his honor at a later date when church renovations are completed.
In lieu of flowers, donations may be made to Lions of Michigan Foundation, 5730 Executive Drive, Lansing, MI 48911.
---
David Arthur "Dave" Bennett, son of Francis Raymond "Raymond" (1901-1971) and Ellen Ruth (Nott) (1900-1989) Bennett, was born 26 January 1941, Michigan. He graduated in 1959 but was not listed on the roster as an OHS graduate.
Dave married Linda Lee Watkins 8 May 1965, Okemos Community Church, Okemos, Ingham County, Michigan. Dave and Linda lived for many years in Holt, Ingham County where Dave was an active member of the local Lyons Club. Dave died 9 January 1998.
Lansing State Journal (Lansing, Michigan) Sunday 11 January 1998
Bennett, David, 56, died Friday. Arrangements by Estes-Leadley Greater Lansing Chapel.
Note from biographer: Dave was tracked by the LSJ marriage announcement, Sunday, 9 May 1965 ("The bridegroom, who attended Michigan State University..."); LSJ 40th anniversary announcement for F. Raymond and Ellen Bennett, Wednesday, 4 March 1970; LSJ article about Mason Lyons Club with David Bennett of Holt listed as "past district governor," Tuesday 13 June 1995; LSJ abbreviated obituary 11 January 1998. The LSJ also listed the adoption of a son, Kurt David Bennett, 16 June 1969 and written articles on daughter Amy Bennett's 1995 engagement (1 October 1995) and wedding (7 July 1996).