Gordon Lee Piper class of 1955
August 16, 1936

–

January 19, 2021
Age 84, passed away Tuesday, January 19, 2021 at Medilodge of Okemos. Gordon, or "Gordie" as his family and friends called him, was born in Okemos, MI on August 16, 1936, the son of Charles & Anna (Strayer) Piper, and lived most of his life in the Okemos/East Lansing area.
Our father's favorite past times included fishing, especially with his father and brother, curling in his younger years, traveling, spending time with his family and friends, MSU football and the Lions. His travels took him to Italy, Spain, Mexico, Canada and numerous states throughout the USA, with his favorite being Alaska. His infectious smile and warm personality made him friends wherever he went. He became a successful salesman and traveled throughout the state.
Gordon was a lifelong member of the Okemos Masonic Lodge #252 serving alongside his father and brother along with the Order of Eastern Stars in which his mother and sister served.
Gordon is survived by his children, Son: Mark Piper of Lake Odessa, Daughters: Teddy (Ken) Insco of Corunna, Beth (Ken) Gruesbeck of Hawaii, Jane (Sean) Whitaker of Tennessee, Ellen (Ron) Hart of St. Johns. Stepchildren Mark Fouts and Renee (Darin) Smith. He was a Grandfather to 20 grandchildren and many Great-Grandchildren. Also survived by Sisters Phyllis Hoag of Okemos, Carol (Dave) Halliday of Texas and Sharon (Ron) Hadowaine of Pinckney.
Gordon was preceded in death by wife Terrill (Hudson) Piper, parents Charles and Anna Piper, brother Basil Piper, 2 sisters Barbara Miller and Elsie Moore, son Ben G. and Grandson Calvin Jenks.
Due to current circumstances, we will not be holding a visitation or funeral. Our father will be cremated and laid to rest at Eastlawn Cemetery per his wishes, alongside his wife Terrill. In lieu of flowers donations can be made to Okemos Masonic Lodge #252 or Heart to Heart Hospice in Gordon's name.
*NOTE: 2021 - Gordie died during the COVID-19 worldwide pandemic, causing our country to impose 'social distancing'. This has restricted the gathering of our nation's citizens, including family ceremonies such as weddings and funerals.
---
Click here to view and print a biography and memories of Gordon Piper, class of 1955
Sad to hear of the passing of Gordie Piper on January 18, 2021. He was a patient in a care facility in Haslett on Marsh Rd, Meridian Township. We were just notified by his sisters, Phyllis Piper (Hoag) '48, Carol Piper (Halliday) '61, Sharon Piper (Hodowaine) '63 and family friend, Tom Rubendunst '75.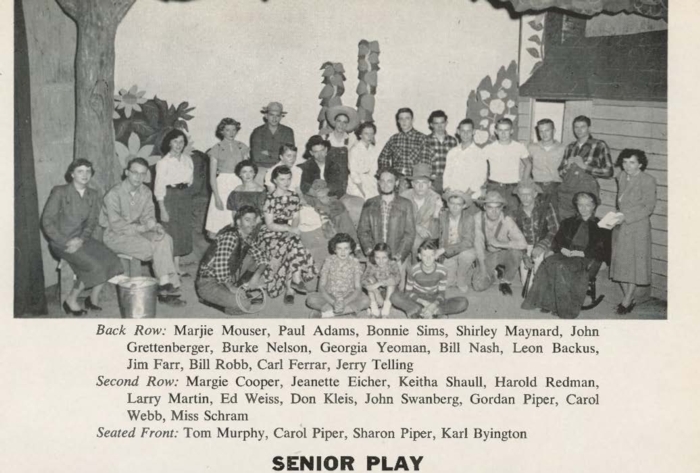 https://www.dignitymemorial.com/obituaries/east-lansing-mi/gordon-piper-10014667