Jerry Allen Burch, son of Calvin E. (1904-1977) and Doris May (Garlow) (1909-1985) Burch, was born 23 February 1932, Lansing, Ingham County, Michigan. Jerry attended Okemos High School with the Class of 1950 but left to work at Michigan State College and then to enlist in the US Army 13 September 1949. In July 1950 his regiment, part of the US Army Seventh Division, was sent to South Korea where he was, according to official documents, "seriously wounded in action by a missile."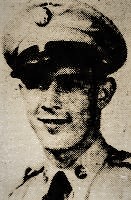 Note: The following newspaper write up states Jerry's wound(s) was not serious but he was transferred to a hospital in Japan where he was still recuperating as of December 1950. In the third paragraph Jerry's surname was misspelled by the writer.
Lansing State Journal (Lansing, Michigan) Wednesday 11 October 1950
The Mason soldier, Pfc. Jerry Burch, 18, son of Mr. and Mrs. Calvin Burch, R. 4, Mason, was wounded Sept. 26 in the vicinity of Seoul, capital of South Korea, according to a letter and telegram received by his parents.
The youth was struck in the face, below the eye, by shrapnel. The wounds were not serious. Pvt. Burch has been transferred to a hospital on the Japanese mainland.
Born in Lansing on Feb. 23, 1932, young Birch attended Okemos high school and later worked in the animal husbandry department at the Michigan State college for a year prior to his enlistment on Sept. 13, 1949. He trained at Camp Riley, Kan., and went overseas last July. He served with the Seventh division.
Lansing State Journal (Lansing, Michigan) Tuesday 5 December 1950
SINGER TO FULFILL WISH OF WOUNDED MASON SOLDIER
Mason, Dec. 5 - The Mason soldier who was wounded in action will have his wish fulfilled by Jack Berch, singing star, when he sings to the soldier on his coast-to-coast 15-minute program Wednesday, Dec. 13, at 11:30 a.m., over the National Broadcasting company.
The wounded GI is Pfc. Jerry Burch, son of Mr. and Mrs. Calvin Burch, R. 4, Mason, who suffered shrapnel wounds in the face Sept. 25, while serving in Korea with the 32nd infantry regiment of the Seventh division. Pvt. Burch is recuperating in an army hospital in Tokyo.
The desire to have Berch sing for him was expressed in a letter from Pvt. Burch to his parents which read in part:
"Mom, do you listen to Jack Berch over the radio? Will you write to him and have him play or sing a song for me? It sure would make me feel good. I listen to him every day and will keep listening."
During the "Heart-to-Heart" portion of his broadcast, the singing star will read the soldier's letter and sing for him on a special hookup to Japan.
Pvt. Burch, a former student of Okemos high school, enter the service on Sept. 13, 1949, and left for overseas duty last June.
Jerry came home and married Jeanette Elizabeth Myers 18 July 1953. The couple celebrated 3 daughters and 34 years of marriage together. Jeanette, born 4 August 1933, Lansing, died 4 November 1987, Lansing.
Jerry remarried but lost 2 of his daughters and a son-in-law over the next 22 years. Daughter Patricia, born in 1956, died in 2005. Son-in-law Dave succumbed in 2009 and daughter Karen, born in 1957, died in 2010. Jerry died a few months after his daughter Karen, 28 August 2010, Palmetto, Manatee County, Florida. Jeanette was interred East Lawn Memory Gardens, Okemos. Jerry's interment is unknown.
Lansing State Journal (Lansing, Michigan) Wednesday 1 September 2010
JERRY ALLEN BURCH
LAKEVIEW
Jerry Allen Burch went to be with his Lord on Saturday August 28, 2010. He was born in Lansing on February 23, 1932 to Calvin and Doris Burch.
Jerry was preceded in death by his parents, brothers Russ and Dale, sister Donna, daughters Karen and Patti, son-in-law Dave, and wife of 50 years Jeanette.
Jerry spent his former years employed by MSU, Diamond Reo, and American Sunroof as manager of plants in Lansing, California, and Germany.
He served in the Korean War as a Sergeant in the 101st Mountaineers, was wounded and received many commendations including the Purple Heart.
Due to his amazing work ethic, honesty, great sense of humor and ability to relate to people from all walks of life, he was successful in every endeavor he pursued.
Jerry is survived by his wife, Donna; daughter, Cherly; sons-in-law, Jeff and Scott; sister, Shirley; brother-in-law, Skip, step-daughter, Chrissy and husband, Mike; step-son Jeff; grandsons, Caleb, Brenden, Shaun, Jeff, and Ryan; and granddaughter, Olivia.
Jerry met his present wife on a blind date arranged by his daughter and step-daughter. They enjoyed 9 years of marriage wintering in Florida with friends and family. The summers spent at Lake Montcalm with neighbors were especially precious to Jerry. His family had lived on the lake for over 60 years.
While his heart gave out, ours will be breaking in our loss of him.
In memory of Jerry, visitation will be held on Wednesday September 1, 12010 from 11:00 a.m.- 1:00 p.m. at Brigham Funeral Chapel in Lakeview, MI with Reverend Jeff Bowman officiating.