Clarence Nolan "Nolan" Bartow, son of Clarence Nolan Sr. (1891-1964) and Annabelle (Rounsifer) (1894-1981) Bartow, was born 28 August 1917, Ingham County, Michigan. Nolan graduated in 1935 from Okemos High School.
Mr. Clarence Bartow Sr. was employed during the 1930's as manager of the electrical appliance department for J. W. Knapp Company, Lansing. Knapp's was a well known, large and considered fine, department store that for decades served the central Michigan region. Mr. Bartow was also a violinist with the Lansing Symphony Orchestra during the 1960's.
Nolan, after graduation, worked for the railroad but gradually drifted back to his love of music and woodworking. As a child he had carved several "flutes," and although they didn't play well, the fascination with the art of making something drove him to seek lessons in how to make a violin. Later he studied violin making in Europe and opened a shop, 329 1/2 South Washington Avenue, Lansing, which became his headquarters for decades.
Nolan, who never married, died 10 August 1984, Ingham County. He was interred near his parents, Summit Cemetery, Williamston, Ingham County.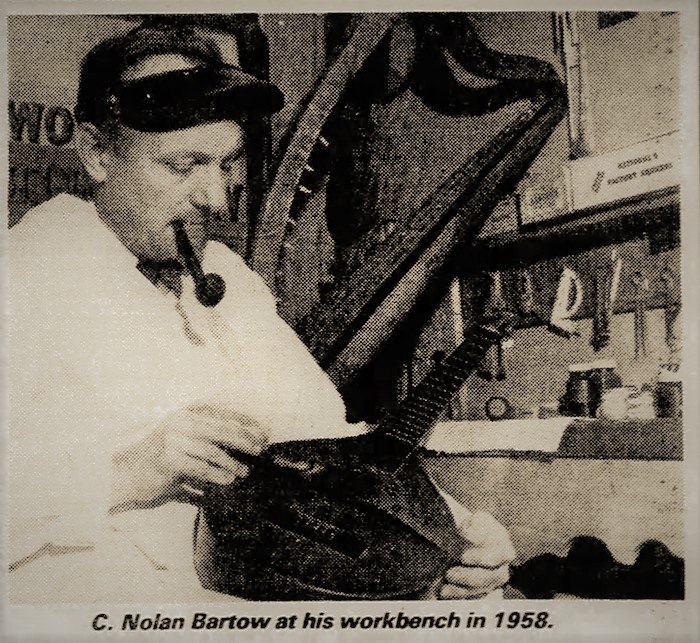 The Bonham Daily Favorite (Bonham, Texas) Thursday 2 May 1974
ONE OF THE FEW....
BARTOW MAKES VIOLINS THE OLD WAY
"C. N. Bartow, violin maker."
The sign hands over the door of Clarence Nolan Bartow, 57, a rotund, grandfatherly man who hand carves violins of out maple and other fine woods. A violin takes a month to build.
Today there are very few craftsmen like him ...and very few violins like his.
"Some of these factories with stockholders and all glue up a bunch of orange crates, spray them with lacquer and call them violins," Bartow laments.
Bartow, a bachelor, lives and works in a cluttered part of an old rooming house. His shop is stuffed with violins people have asked him to repair, parts of instruments he is making, and the tools of his trade...clamps, molds, and bottles of turpentine and varnish.
Violin making business is good these days, he said. Last year he just sold four of five violins. But they went at $1,000 apiece, and a few violins go a long ways.
Bartow supplements his income from violins with piano tuning and repair - repairing any stringed instrument and by making a variety of other instruments, from mandolins to dulcimers.
Bartow became disenchanted with his old work as a railroad man in the late 1940's. He entered a violin making school in the Edison Institute in Dearborn, Mich.
Later he attended a violin making university in Cremona, Italy, the home of Anthony Stradivarius whose century old violins are valued at thousands of dollars each.
"Everybody thinks Stradivarius had a secret to making a violin," Bartow said. "There is no specific secret to violin-making. If I knew as much as Stradivarius did, I'd have his tone. He is a smarter man than we are today."
Today, Bartow said, few people are willing to devote the time necessary to learn about physics, chemistry, music, pharmacology, acoustics, and woodworking, which are a few of the things a person needs to know to make a good violin.
"I'm the only one left in this part of the country," he said. "There are only a few tools around."
Lansing State Journal (Lansing, Michigan) Saturday 11 August 1984
C. Nolan Bartow was just a young man when he put together a makeshift violin to serenade the girl next door.
Little did he realize at the time, that it was the beginning of a career he would fondly pursue until his death.
Bartow, of 329 1/2 S. Washington Ave. died Friday. He was 67 years old.
The custom violin maker was just a youngster when he taught himself to make instruments out of cigar boxes.
"They didn't work out too well," he once told a reporter, "but I'd go around anyway and serenade the girls."
Bartow attended teacher's college for a year, then went to Michigan state University for another 2 1/2 years, leaving without a diploma. His first real job was as a brakeman for the New York Central Railroad.
In 1947, Bartow went to Dearborn to take lessons in violin making from John Hitter at the Edison Institute, later pursuing postgraduate studies in Frankfort, Germany and Cremona, Italy, the home of the most famous violin maker, Antonio Stradivarius.
Bartow came to Lansing in 1951 and set up shop in an upstairs studio in the 300 block of South Washington Avenue where he tuned out stringed instruments for professional musicians throughout the world.
He also invented a special varnish to use on his finished violins.
In 1975, he established the "Bartow Institute of Professional Violin Making," offering a 4-year course in the design and handcrafting of stringed instruments.
Bartow enjoyed his old-world craft and didn't want to think of retirement, he once told a reporter.
"I've done all the things I wanted to do. I can take time off now if I want to," Bartow said.
"Right now I plan to stay here and work for a long time."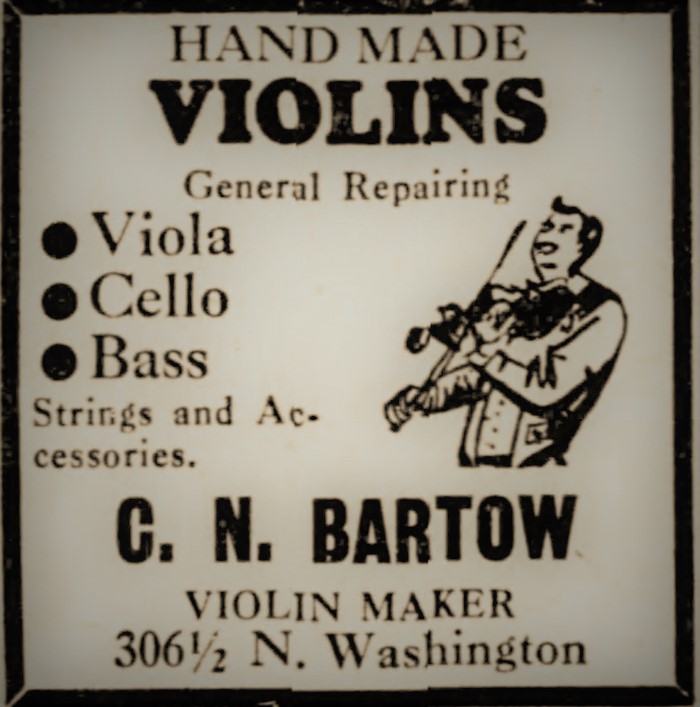 Lansing State Journal (Lansing, Michigan) Sunday 12 August 1984
C. NOLAN BARTOW
329 1/2 S. WASHINGTON
Age 66, died Aug. 10, 1984. Mr. Bartow was born Aug. 28, 1917 on an Ingham County farm, attended Okemos Schools, Central Michigan University and Michigan State University. He was the owner and opoerator of C. Nolan Bartow Violin Shop for over 30 years. He was a member of Walter French Lodge #557 F. & A.M., Elf & Khurafeh A.A.O.N.M.S. Brass Band, Experiment Aircraft Assoc., and OX-5 Club. Mr. Bartow is survived by one brother, Keith Bartow of Okemos; 3 sisters, Mrs. Ronald (Geraldine) Ray of Holt, Mrs. Patricia Wooster of Phoenix, AZ and Mrs. Donald (Joanne) Gos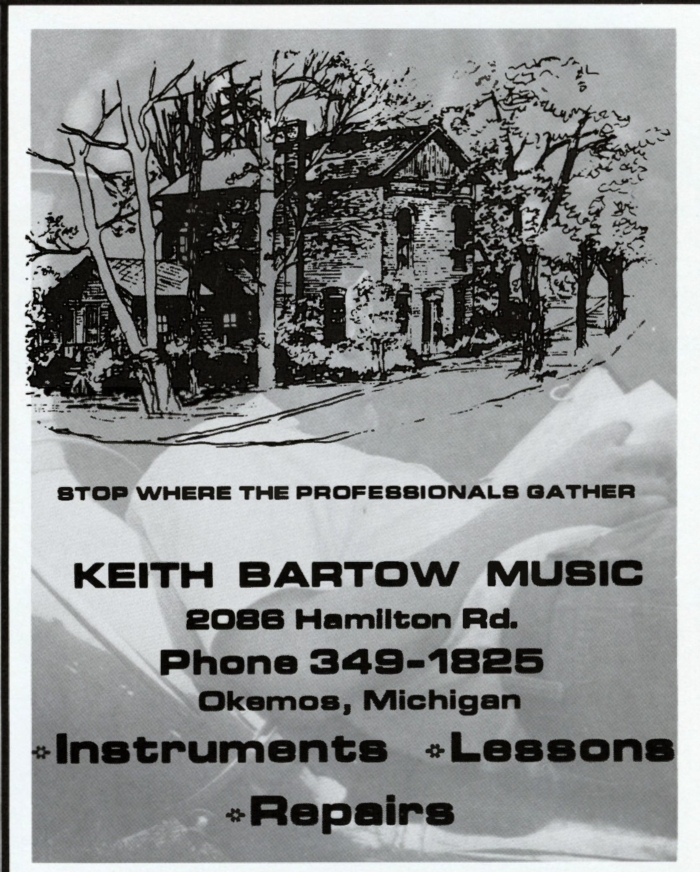 s of Decantor, IL and numerous nieces and nephews. Funeral services will be held Tues. 1 p.m. at the Gorsline-Runciman Lansing Chapel with the Rev. Lewis Wood Administrative Pastor of South Baptist Church officiating. Interment will be in Summit Cemetery.