Lawrence Nathan Shepherd, son of Roy Everett (1899-1979) and Zena V. (Cahill) (1901-1980) Shepherd, was born 2 February 1923, Lansing, Ingham County, Michigan. Lawrence was very involved with F.F.A. while attending Okemos High School and was elected president of the association for the 1940-41 school year. Lawrence, for his senior high school year, moved to the northern most area of the Michigan's lower peninsula, Harbor Springs, Emmet County. Harbor Springs' population in around the year 2000, according to the US Census Bureau, was 1194. Lawrence graduated from high school there in 1941 while his parents remained living at their East Lansing, Ingham County address.
Lansing State Journal (Lansing, Michigan) Thursday 27 October 1938
The Okemos F.F.A. chapter will be represented at the International hay and grain show at Chicago. Four samples of corn and one sample of beans from projects are being sent. These samples were grown by George Fogle, George Cornell, Charles cooper, and Lawrence Shepherd.
Lansing State Journal (Lansing, Michigan) Thursday 23 May 1940
The F.F.A. officers for the next school year were elected at a meeting Tuesday morning. The officers are as follows: president, Lawrence Shepherd; vice president, Fred Hauser; secretary, Loren Everett; treasurer, Earl Mills; reporter, Stuart Moore, and watch dog, Robert Ohm.
Note: Lawrence's first name is misspelled in the following newspaper article.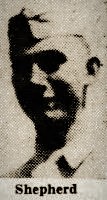 Lansing State Journal (Lansing, Michigan) Saturday 30 December 1944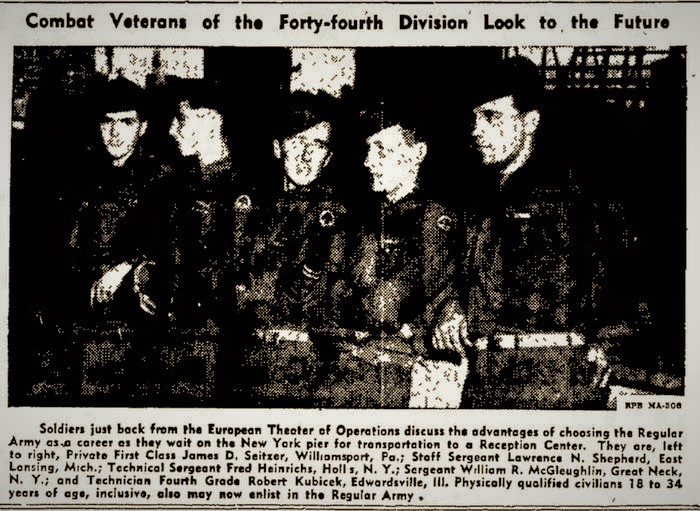 SGT. L. A. SHEPHERD WOUNDED IN FRANCE
Mr. and Mrs. Roy E. Shepherd, R. 10, East Lansing, have been notified by the war department, they revealed Saturday, that their son, Staff Sgt. Laurence N. Shepherd, 21, was slightly wounded December 13 in action in France, where he was serving with the infantry. Sergeant Shepherd attended Okemos school until his senior year and finished at Harbor Springs, after which he was employed by the Motor Wheel corporation until his induction March 3, 1943. He received his training at Fort Lewis, Wash., and Camp Philips, Kan., leaving for overseas last September.
After honorable military discharge in late 1945, Lawrence came home to attended and graduate from Michigan State University. He married Barbara Mae Jordan in 1950.
Lansing State Journal (Lansing, Michigan) Thursday 10 August 1950
Lawrence N. Shepherd, 27, of 3352 W. Biber st., East Lansing, and Barbara Mae Jordan, 21, of 2006 William st., Lansing.
Lawrence was employed 1 January 1956 by Michigan State University as "instructor (research) soil science." He remained at MSU for a number of years before going to Ohio State University where he became a professor in the Department of Horticulture and Crops.
Lawrence and Barbara celebrated 59 years and 1 child together. Lawrence died 28 February 2010, Columbus, Franklin County, Ohio.
Lansing State Journal (Lansing, Michigan) Wednesday 3 March 2010
LAWRENCE N. SHEPHERD
COLUMBUS
Age 87, passed away Sunday, February 28, 2010 at The OSU Medical Center. Born February 2, 1923 in Lansing, MI; Professor Emeritus The Ohio State University Dept. Of Horticulture and Crops; previously instructor at Michigan State University Dept. of Crops and Soils; US Army veteran of WWII, 71st infantry; member of several professional associations; elected to membership 2003 class Farm Science Review Hall of Fame.
Preceded in death by parents, Roy and Zena Shepherd; sisters, Grayce O'Connor, Marjorie Shepherd, and Viola DeMunck; and brother, Gerald Shepherd, he is survived by wife of 59 years, Barbara; daughter, Karen of Columbus; 2 sisters, Joan (Roy) Pitts of St. Johns, MI and Shirley Shepherd of East Lansing, MI; 2 brothers, Don (Betty) Shepherd of Lake City, MI and Roy Shepherd Jr. of Leslie, MI; along with numerous nieces and nephews.
The family will receive friends from 4 to 8 p.m. on Thursday, March 4, 2010 at the Chapel in the Pines Funeral Home, 101 West Jolly Rd., Lansing, MI.
Traverse City Record Eagle (Traverse City, Michigan) Monday 22 October 1945