Milton Orlando "Buck" Buchanan, son of Milton (1890-1923) and Anna Pischel (1899-1982) Buchanan, was born 9 November 1919, St. Louis, Missouri. Buck's father, a World War I veteran who served as a private, 4th Co., 155 Depot Brigade, succumbed to tuberculosis in 1923, Wayne County, Michigan. Buck recorded on his 1945 marriage license application his father's employment as "vaudeville singer."
Detroit Free Press (Detroit, Michigan) Friday 26 January 1923
MAN, TO AID WIFE, ASKS SECRET DEATH
Request Denied and Family Comes; All Penniless Here.
Few requests are denied a dying man as a rule but the authorities at the Receiving hospital decided against Milton Buchanan, 42 years old, when he requested them not to notify his family, especially his wife, of his condition as he knew she would have to mortgage their furniture in order to get railroad fare.
Buchanan entered the Receiving hospital December 16, ill from Tuberculosis in an advanced stage and said that his relatives were not aware of his condition but thought he was working in Detroit.
Wednesday Buchanan's condition took a turn for the worse and the physicians, knowing that it would be only a few hours before he would be taken away, notified his wife in Coleman, Mich., and late Wednesday night she arrived with two children, one 3 and the other 1.
Buchanan died Thursday and his body was sent to the morgue, as his wife and children haven't sufficient money to live on, to say nothing about funeral expenses. The Volunteers of America have taken the mother and the two children to their home, at 2120 East Jefferson avenue, and will keep them until plans can be made for the burial.
Detroit Free Press (Detroit, Michigan) Wednesday 31 January 1923
WIFE MORTGAES COW TO VISIT DYING SPOUSE
EMILY LOU, JERSEY, ACCEPTED BY COLEMAN (MICH.) BANK AS GOOD COLLATERAL
A jersey cow's part in the scheme of life is minor. She is neither a comic or heroic character as a rule. At best she is a phlegmatic creature munching the meadow that she may feed mankind, but influencing man's destiny not at all.
To every rule there is an exception, however, and Emily Lou is it. Last week she became a 100 percent friend in need, when a western Michigan bank accepted her as collateral for a loan that a wife might be at her husband's bedside in Receiving hospital when he died.
TELEGRAM CAUSES FLUTTER.
The Buchanan's of Coleman, Mich., got a telegram last week. Up that way such mystic yellow blanks cause a flutter. They usually mean but one other thing, if they don't mean a new baby. This one was for Anna Buchanan and simply read:
"Your husband, Milton Buchanan, seriously ill here." "Receiving Hospital"
She had dreamed of Milton astonishing the city - Milton grown tired of striding the fields, lush though they were, and wanting high stone and steel silhouetted on his starlit sky instead of only a barn and silo and hoary ancients maple.
Coming through the grain Milton had told himself again and again how he hated it. He had often said, as he and his wife sat evenings about the farmhouse lamp, that it was in the city where life was fullest and gayest and ambition most rewarded. He could not know that in the cities at the same moment countless men probably were envying the lot of Milton, the morning glories trooping round his window and the base chorus of pine down in the cooling creek. Milton had given it all up however, for his chimera and had come to Detroit a month ago.
Anna gathered her two babies to her when she had read the telegram. Then she talked to her father and mother. They counted resources. It would cost a lot of money - a lot to Anna and the elder Buchanan's - to come to Detroit. It would cost more than all three had available.
MORTGAGE EMILY LOU.
"We might mortgage the cow." her father suggested.
"Perhaps we can," said Anna "It's the only way."
The Buchanan's mortgaged Emily Lou the next morning. Anna arrived at Receiving hospital Friday with her two babies, one 2 years old and the other 3. The first night was taken care of at the woman's detention home and the second night the Volunteers of American found a place for her.
Milton Buchanan died Sunday of acute tonsillitis.
According to the State of Michigan Certificate of Death, Milton succumbed to "miliary tuberculosis." He was interred Coleman Cemetery, Midland County, Michigan under a military headstone.
Anna Buchanan married in 1926 US Army veteran Clarence A. Randall (1903-1994) and the family moved to the Okemos area. Young Buck, the oldest of two sons, attended Okemos High School only one year then quit. He was probably in the OHS class of 1938. In October 1939 Buck enlisted in the US Army. His younger brother, Wilbur Harrison Buchanan, OHS class of 1939, enlisted in the US Army Air Corps in 1941.
Lansing State Journal (Lansing, Michigan) Saturday 7 October 1939
SIX FROM THIS AREA ENLIST IN U.S. ARMY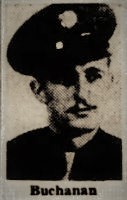 Six central Michigan youths enlisted this week in the United States army, according to Sgt. August A. Steeb, local recruiting officer. They were: Milton O. Buchanan of Okemos, in quartermaster corps, Fort Lewis, Wash.,....
Vacancies exist for immediate enlistments in the infantry, medical corps, ai corps, quartermaster corps, signal corps, and field artillery, Sergeant Steeb said. These vacancies are at the various posts, located in Michigan, Illinois, Utah, Montana, Wyoming, and Washington.
Lansing State Journal (Lansing, Michigan) Monday 17 February 1941
Milton O. Buchanan, son of Mr. and Mrs. Clarence Randall of Okemos, has returned to Fort Lewis, Washington, after spending a three weeks' furlough with his parents. Another son, Wilbur H., has joined the United States army air corps and is now stationed at Jefferson barracks, Missouri.
Lansing State Journal (Lansing, Michigan) Thursday 2 March 1944
PARENTS RECEIVE MEDAL, NO NEWS OF SON'S WOUND
Mr. and Mrs. Clarence Randall of Okemos received Wednesday the Purple Heart medal, awarded December 25 to their son, Pfc. Milton Buchanan, who is with the Rangers in Italy. Receipt of the medal was their first knowledge that he had been wounded. The young man entered the service four years ago and has been serving overseas since October, 1942. He also wears the European campaign ribbon.
The Randall's also have a younger son, Second Lieut. Wilber Buchanan, a pilot on a troop carrier in Italy.
Lansing State Journal (Lansing, Michigan) Saturday 5 May 1945
The wounded men are Corp. Milton Buchanan, son of Mr. and Mrs. Clarence Randall, 4393 Dobie road, Okemos.....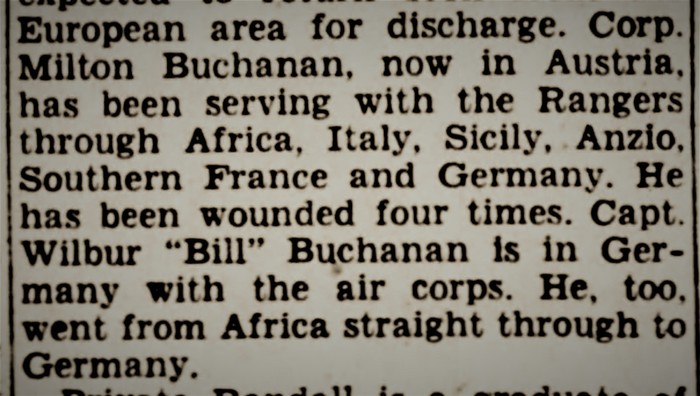 Corporal Buchanan has added the third oak leaf cluster to his purple heart, having been wounded for the fourth time, April 14, in Germany, his parents learned in a recent telegram from the war department. He was wounded the first time in Tunisia, North Africa, in 1942; then during the Sicilian campaign in 1943, and the third time at the Anzio beachhead in 1944. He is now recovering in an army hospital in England.
WITH THE THIRD RANGERS
A member of the armed forces for the past five years, a major portion of this time has been spent with the famed "Third Ranger" battalion. After serving 25 months in the European area, he was granted a 30-day furlough last January, returning to action in February.
Lansing State Journal (Lansing, Michigan) Sunday 19 August 1945

RANGER DUE HOME SOON
SGT. MILTON C. BUCHANAN OF OKEMOS SLATED FOR DISCHARGE ON POINTS
Sgt. Milton O. Buchanan, son of Mr. and Mrs. C. A. Randall, 4393 Dobie road, Okemos, will arrive in the States soon for discharge under the point system, having a total of 150 points. A member of the original Rangers, he has been wounded four times. Sergeant Buchanan served in the assault wave at Casablanca November 7, 1942, with the Third infantry division. From there he was transferred to the Third Ranger battalion, and fought through the Tunisian campaign at Kasserine pass and in the El Alamain in Sicily, capturing Massino and on to Cassino, Italy. He fought in the stand-still battle of Anzio. On the morning of January 30, 1944, some 1,500 Rangers attacked the village of Cistenna De Littoria. At noon there were just 199 Rangers still alive. These were scheduled to return to the States.
Buchanan was then transferred back into the Third division, going into southern France. He received a furlough in the States, and upon returning overseas, he found his unit in France. They went into Germany through the Siegfried line.
Buchanan's combat duty terminated April 14, when he was wounded while leading two Sherman tanks into Templesgreth, Germany. While in front of the tanks, he was fired upon and unable to find cover. He holds several citations including a presidential unit citation. He also wears eight battle stars and the purple hear with three clusters.
Buck, after honorable military discharge, married Edna Strang 20 November 1945, Steuben County, Indiana. Edna, born 11 June 1924, Eaton County, had a brother, US Army Sgt. Donald Strang, who never made it home from the war. Donald died in France 16 March 1945. The Strang family was notified of his death in November 1945, same month Edna married Buck.
Buck was employed several places after the war but settled into working at Michigan State University from where he retired in 1983. Like his brother Wilbur, Buck had a love of airplanes and flying.
Buck and Edna celebrated 69 years and 1 child together before he died at the age of 95, May 2015, Clare, Clare County, Michigan. Edna was still living as of 2018.
O'Laughlin Funeral Home, Inc., 215 West Adams Street, Coleman, Michigan
Milton O. Buchanan, 95, of Coleman, died Saturday May 30, 2015 at Mid Michigan Medical Center, Clare. He was born November 9, 1919 in St. Louis, Missouri, the son of the late Milton & Anna (Pischel) Buchanan. Milton married Edna M. Strang November 20, 1945 in Angola, Indiana. He retired from Michigan State University in 1983 after 15 years of service. Milton served with the United States Army during WW II from 1939 through 1945. He was a life member of the Okemos Masonic Lodge #252. Milton's interests included air planes. He was a licensed pilot and had built one of his own planes.
Survivors include his wife Edna of Coleman, daughter Connie & Frank Stark of Confluence, Pennsylvania, grandchildren, Frank & Annie Stark, John & Amber Stark, great-grandchildren, Morgan, Olive and Chloe Stark. Milton was preceded in death by his brother Wilbur Buchanan, and half-brothers Robert & Duane Randall.
Cremation has taken place. Burial will be in Okemos. O'Laughlin Funeral Home, Inc. assisted the family with arrangements.