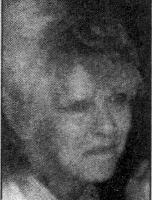 Jacquelyn G. "Jackie" Ball, daughter of Ernest J. (1903-1974) and Mabel S. (Jones) (1908-1975) Ball, was born 17 March 1939, Okemos, Ingham County, Michigan. Jackie attended Okemos High School with the class of 1957. She left school either during or after her sophomore year to marry OHS '54 alumni Howard "Howdy" Travis. Jackie's freshman picture was in the 1954 Tomahawk yearbook. She was listed as a sophomore class member but not pictured in the 1955 Tomahawk yearbook.
Jackie and Howdy divorced and she married Gordon L. Hiatt. Gordon was a World War II Navy veteran. Jackie died 17 February 2001, Michigan. Gordon, born 16 May 1923, died 11 October 2013. Jackie and Gordon were interred Great Lakes National Cemetery, Holly, Oakland County, Michigan.
Lansing State Journal (Lansing, Michigan) Wednesday 21 February 2001
JACQUELYN G. HIATT
IRONS, MI
FORMERLY OF WEBBERVILLE
Born March 17, 1939 in Okemos; died February 17, 2001, at the age of 61. Mrs. Hiatt was preceded in death by her parents, Ernest and Mabel Ball; sisters, Jeanne Ball and Dorothy (Fay) Franklin; brother, Norman Ball; and friend and ex-husband, Howard E. Travis. Surviving are Gordon L., her husband of 37 years; 2 daughters, Penny (James) Bohnett of Webberville and Lisa (John) Cox of Williamston, 6 sons, Howard (Patricia) and Mark Travis both of Webberville, Rodney (Deborah) Hiatt of Lansing, Steve (Teresa) Hiatt of DeWitt, Robert Hiatt of Dansville, and Darrin Hiatt of Haslett; 19 grandchildren; 1 sister, Evelyn (Otto) Bennett of Mecosta; many nieces and nephews; and 1 aunt. Memorial services will be held Saturday, February 24, at 4 p.m. at the Gorsline-Runciman Co., Lansing Chapel, 900 E. Michigan Ave., Lansing.